Editors pick: the 6 Best Wedding Thank You Cards with Photos
Words by Utterly Printable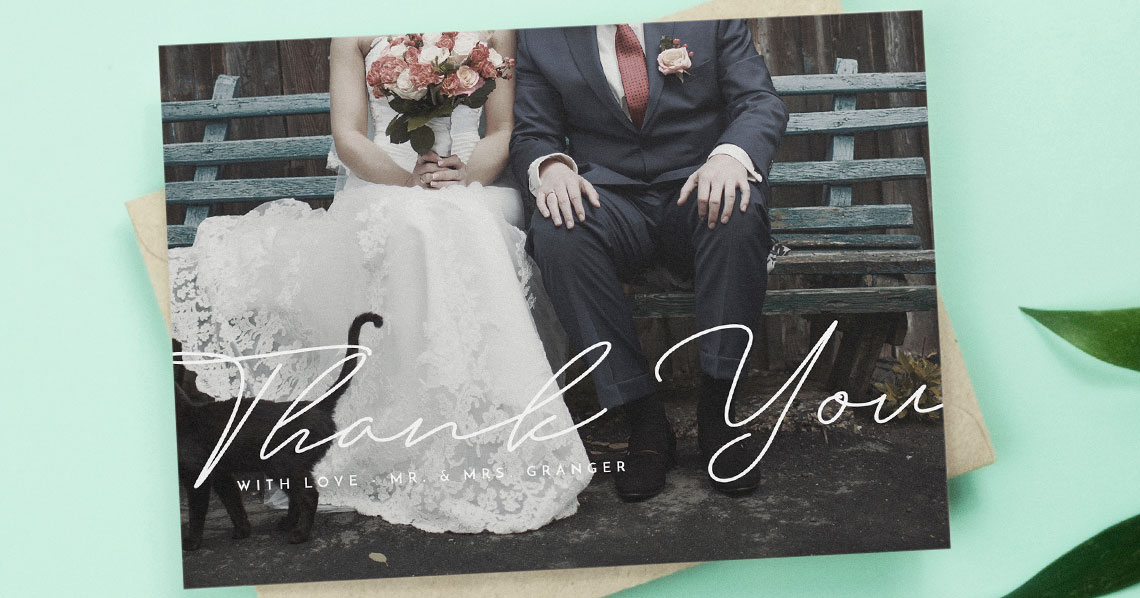 Congratulations, you're married! We hope all the planning and hard work paid off and you had the wedding day of your dreams. Like most weddings we are sure there were one or two hiccups but what matters most was that you got to marry the love of your life in front of all of your favourite people. With most of the hard work done there is just one job left on that to-do list: your wedding thank you cards. Typically sent three to six months after the big day, most couples will have received their wedding photographs by now and will be itching to use their favourite snaps as the backdrop to their thanks. Once you've narrowed down your favourites have a look through this list of the best wedding thank you cards with photographs to choose one which meets your needs. Whether that's a card which displays a single large photo or one with space for nine miniature ones, we should have something in our collection that you love. Here are our 6 favourite:
Woodland footer
This thank you card is perfect for the couple whose big day was centred around nature. Whether that meant a ceremony in the woods or a tipi in the garden, if nature played a big part in your big day then this is the thank you card for you. Pick your favourite snap and display it in large format across the entire card with beautiful typography thanking your guests underneath.
All the worlds a stage
If you're looking for a thank you card for wedding gifts with a design which allows you to include multiple favourite pics, then this could be the one for you. Whilst it remains simple, clean cut and classic, it leaves you with loads of scope to customise and personalise it. Have a play around with your five favourite photographs to make sure each one is perfectly situated and consider including a mixture of classic black and white shots and coloured photographs to mix it up.
Just a little thank you
If you're looking for something simple and sweet and with a postcard vibe then this thank you card is it. With space to include one large photograph and a paragraph of thanks, this sweet thank you card will look delightful pinned to your guest's corkboard. For those special people you wish to thank in a more personal manner, use the back of the card to write down a few lines of thanks making it truly personal to whomever will receive it.
Landscape photo thank you
This is one of our absolute favourite thank you cards due to its unique addition of a red heart and red writing which really pop against a backdrop of black and white photographs. Pick your favourite three portrait images from the day to display and wow your guests with this distinctive and lovingly designed thank you card. There is plenty of room inside to write the perfect thank you message expressing your gratitude and love.
Too many good memories
This wedding thank you card gives you the opportunity to include nine of your favourite snaps from the day. So, if you're really struggling to narrow down your favourites then stop fretting and just use them all. With nine spots to fill, you can tell the story of your wedding day through photographs, from getting ready snaps to the ceremony, speeches and finally the first dance, your guests will feel like they are reliving the whole special day. Don't forget to order a few spares which can be framed and hung as beautiful mementos of a wonderful day and looked back on for many years to come.
Pastel watercolours
If you're looking for a thank you card with some colour in, then this is the perfect design for you. Containing pastel pink and yellow this invitation stands out amongst all the other black and white cards. If your day was filled with colour and romance then this design matches that vibe perfectly, pick your two favourite photographs and write your thanks on the inside to let your friends and family know that you love them and you're grateful for the part they play in your life.
If none of these thank you card designs speak to you then we have plenty more options in our full collection of premium yet pleasingly cheap wedding thank you cards.