PRINTED STATIONERY SAMPLES FOR £3.49 // PRINTED IN THE UK

Design & Print For
weddings
welcome to our wedding collection
Checkout out our great designs for before, during and after your weddings. Save the dates, invitations, thank you cards and much more. Happy designing!
our wedding printing service
We have everything you need to make your wedding awesome. Before the big day we have wedding invitations, save the dates, RSVP cards and information inserts. For the marriage ceremony, we have beautiful order of service designs. For the reception, we have wedding menus and table place cards. And when all is said and done, we have some great wedding thank you card designs to post out to you friends and family. Hundreds of designs across dozens of styles, all ready to be personalised, professionally printed and delivered. All at affordable prices. Fabulous!

WEDDING INVITATIONS
the start of any great wedding
Get the wedding ball rolling with your own personalised wedding invitations. We have hundreds of invitation cards to choose from, ranging from the classic and elegant, to more modern and simplistic wedding invitation designs. Design your wedding invitation online then take advantage of our superb and affordable invitation printing service.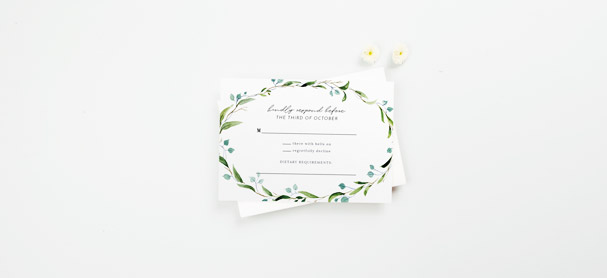 rsvp cards
Work out who's attending your wedding and stay on top of any dietary requirements with our excellent response cards. Designed to pair with a design in our wedding invitation section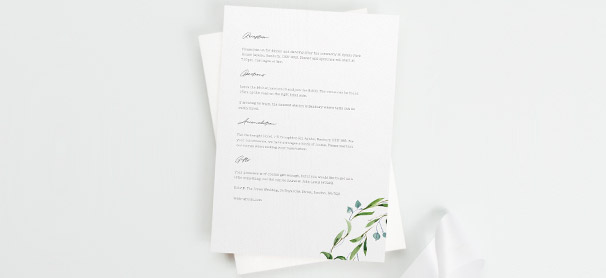 information inserts
Make sure your guests know where they're going with our functional wedding information insert cards. Excellent for detailing ceremony and reception details for your big day.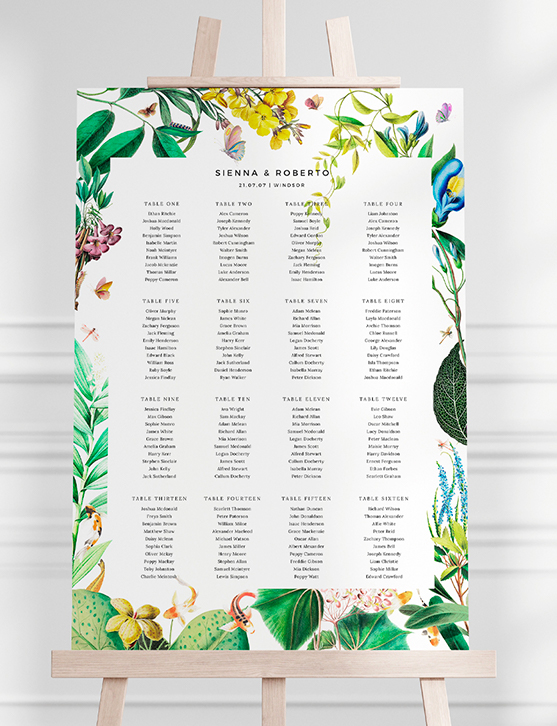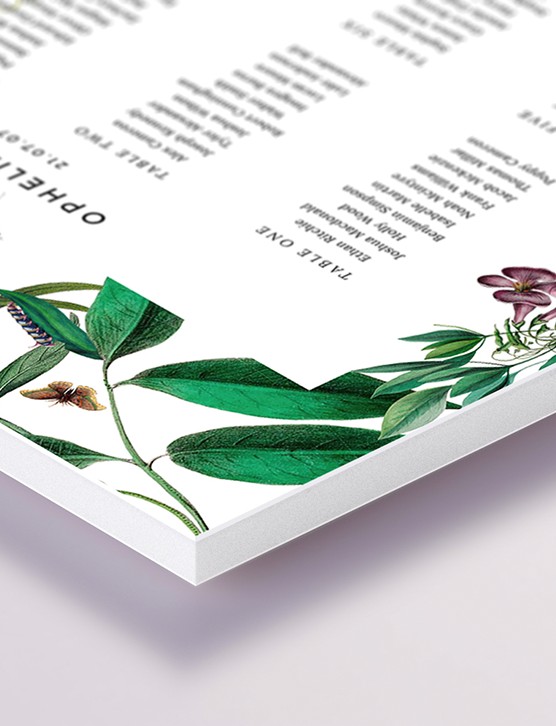 WEDDING TABLE PLANS
Setting the scene for your Big Day!
Add an elegant touch to your big day with our personalized Table Plan Boards, perfect for orchestrating your wedding seating arrangement. Choose from a variety of designs and table layouts to create an A1 or A2 size board, beautifully printed on durable, weatherproof, and lightweight 10mm Foamex board, ensuring your special day shines, come rain or shine.
DESIGN YOUR SEATING PLAN ONLINE

save the dates
the starting gun for your wedding
The best dates for summer weddings go early! Make sure you slide into your friend's calendars in time with our range of beautifully designed wedding save the date cards. All our save the dates are available for print. However, you can also download a digital copy of your personalised save the date if you'd like to print at home or send them out by email.
Printing for weddings: on the day
Great printing can really add to your wedding. It can help things run smoothly as well as compliment your wedding's theme and feel. We have a few lovely little printed products and designs that will most certainly help with your wedding. Check them out!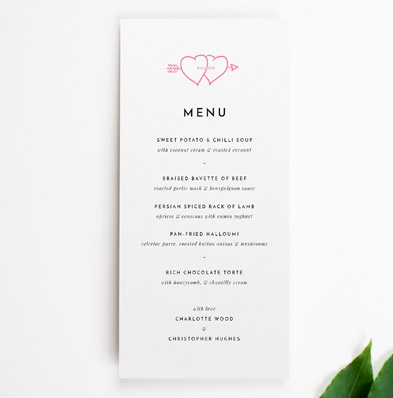 WEDDING RECEPTION MENUS
Let your guests know what's for dinner with a beautiful wedding menu. We think a well-printed menu looks fantastic sat on your wedding reception table, and no matter what food is being served up at your meal, we have the wedding menu to match.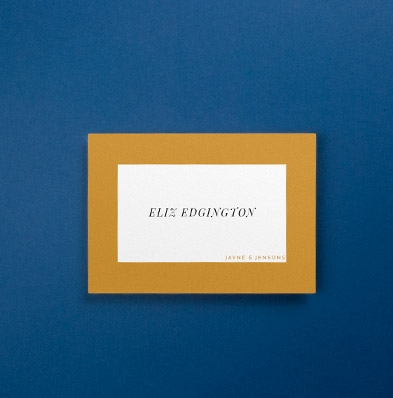 PLACE CARDS
No one likes milling around at a wedding reception wondering where they're supposed to sit. Our bold, printed personlaised place cards will look fantastic on your table and will get everyone sat down in time for first course. Generate your personalised place cards online now.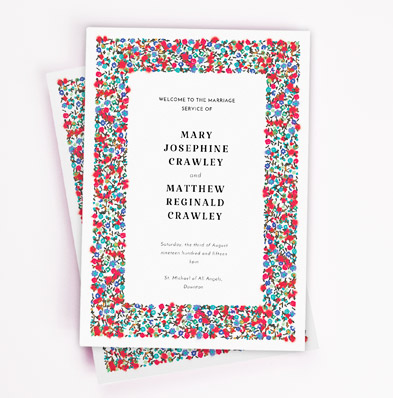 WEDDING ORDER OF SERVICe
Whether you're planning a humanist or church service, our charming wedding order of services will help your ceremony go off without a hitch. Design your wedding program online buy dropping in all your readings, hymns and prayers. We offer these little beauties as 4 pages cards, or 8- or 12-page order of service booklets.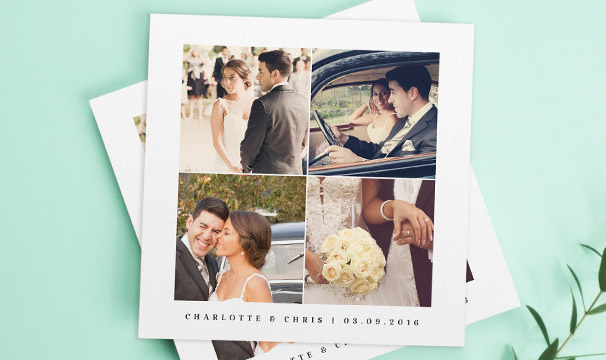 WEDDING THANK YOU CARDS
Show your appreciation with a personal touch
Wedding thank you cards are great! Take one photo (at least) of you and your partner looking awesome on your wedding day, add in a personal message to your nearest and dearest, then print it all together on a lovely, high quality card. It's a world-beating formula! Design and print your own personalised wedding thank you cards right here on our website. Start by browsing our collection of wedding thank you cards with photos.
couples desk stationery
DESK STATIONERY FOR COUPLES
The perfect gift for your favourite newlyweds (or yourselves!)
Our collection of couple's desk stationery has been lovingly put together to make handwritten note cards fun again. We have personalised stationery designs with bold colours and unique motifs. All you need to do is drop in your details. Personalise your note cards online then have them affordably printed by us. Great looking correspondence cards are only a moment away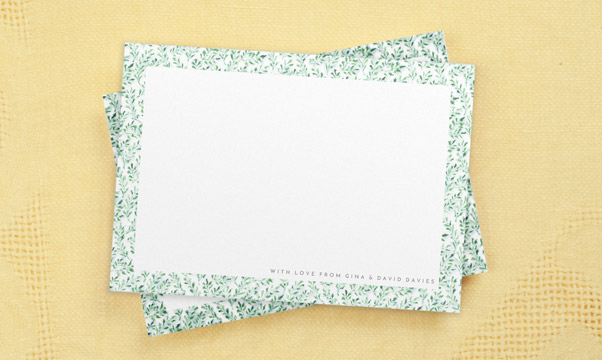 most popular styles

wedding invitations
ALL OF OUR PRINTED WEDDING INVITATIONS, SAVE THE DATES, RSVP CARDS AND WEDDING THANK YOU CARDS ARE AVAILABLE WITH PREMIUM ENVELOPES. ADD THEM TO YOUR ORDER AT THE CHECKOUT.
OUR WEDDING PRINTING SERVICE
Weddings require heaps of planning. At Utterly Printable, our aim is to make the design and print for your wedding as easy as possible. We are a printer of all things 'wedding' and we're here to help with the many printed products that holds a wedding day together. We have beautifully traditional cards stocks to choose from, with options to make your wedding printing really quite affordable. With Utterly Printable, printing for your wedding is one less thing to worry about.
most popular styles

SAVE THE DATE CARDS
why use utterly printable?
£3.49 samples
See printed proofs of your cards, invitations, order of service and menus for just £3.49.
affordable printing
Great design & print at affordable prices. Perfect for a wedding on the cheap.
great designs
You'll find a huge range of designs in our wedding collection. We hope you find something you love!