rsvp
.

studio

from
Welcome to our online RSVP service for funerals. Organising a funeral service can be a difficult and emotional process. We've created an online RSVP service to take some of the burden off your shoulders. Our platform allows you to easily invite and inform well-wishers about an upcoming funeral. With just a few clicks, you can create your very own personalised digital RSVP.
Create your bespoke funeral RSVP now
Funeral RSVP links for the fixed price of £12.50.
Help with organising a funeral:
Elegant options
Customize your funeral RSVP with photos, frame options, and colour schemes. Make it reflect cherished memories and personal style.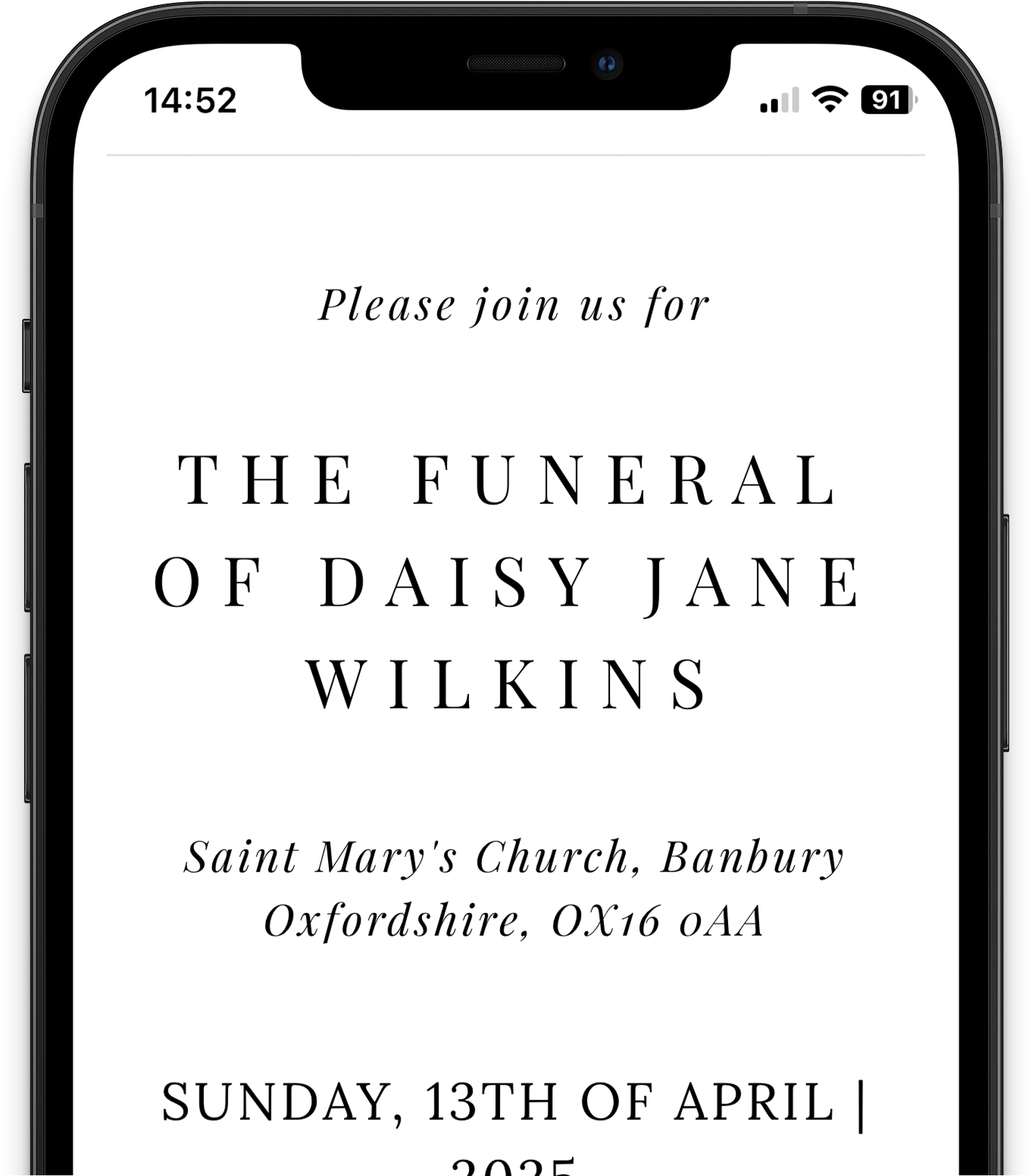 Holds all the info
Get across all the details about a funeral or memorial. The service; timings; the wake or any post-service gatherings; charitable donations etc.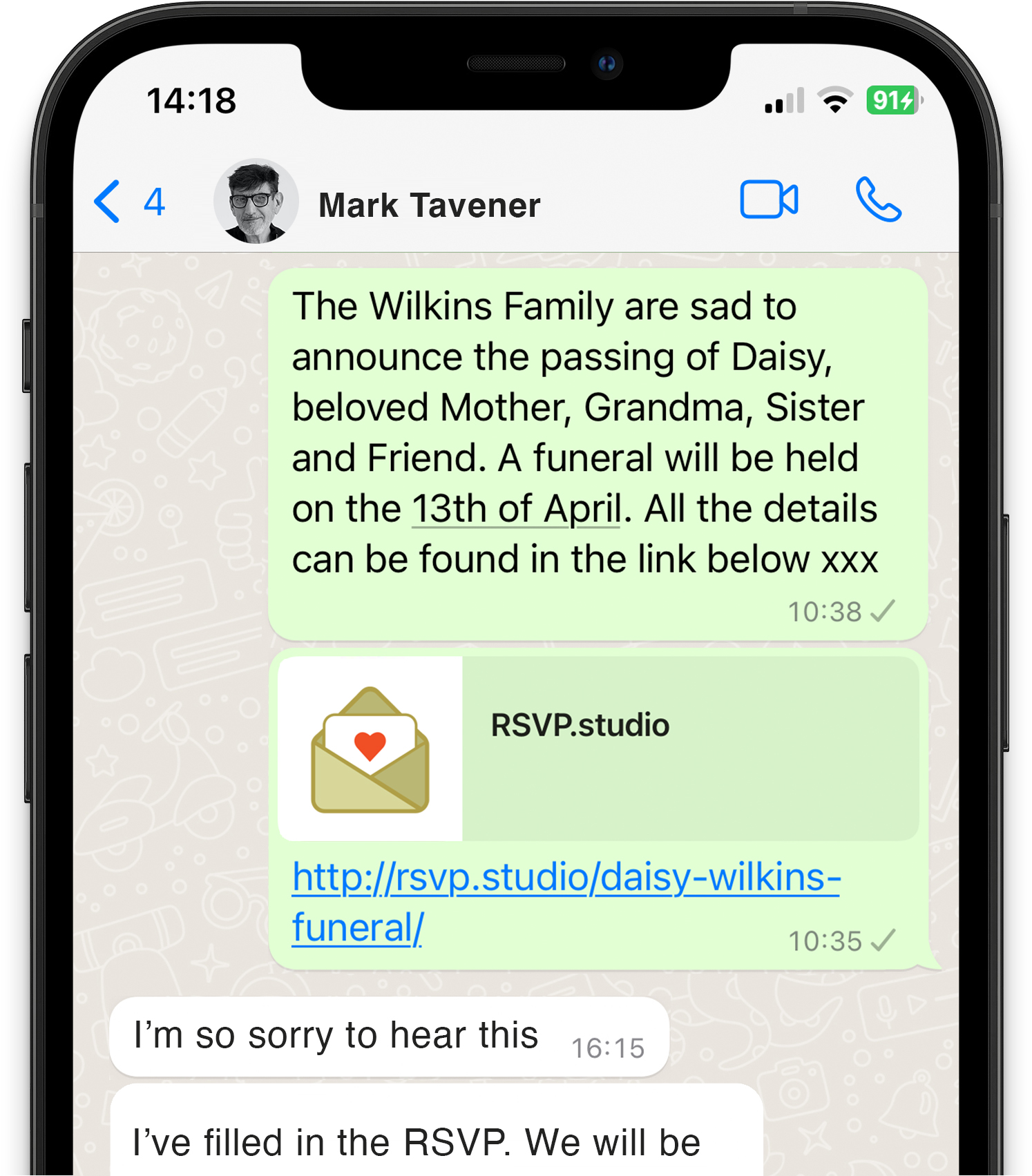 Send out with ease
A funeral RSVP link can be delivered through various means such as email, text message, WhatsApp, or social media. Recipients only require internet access to respond.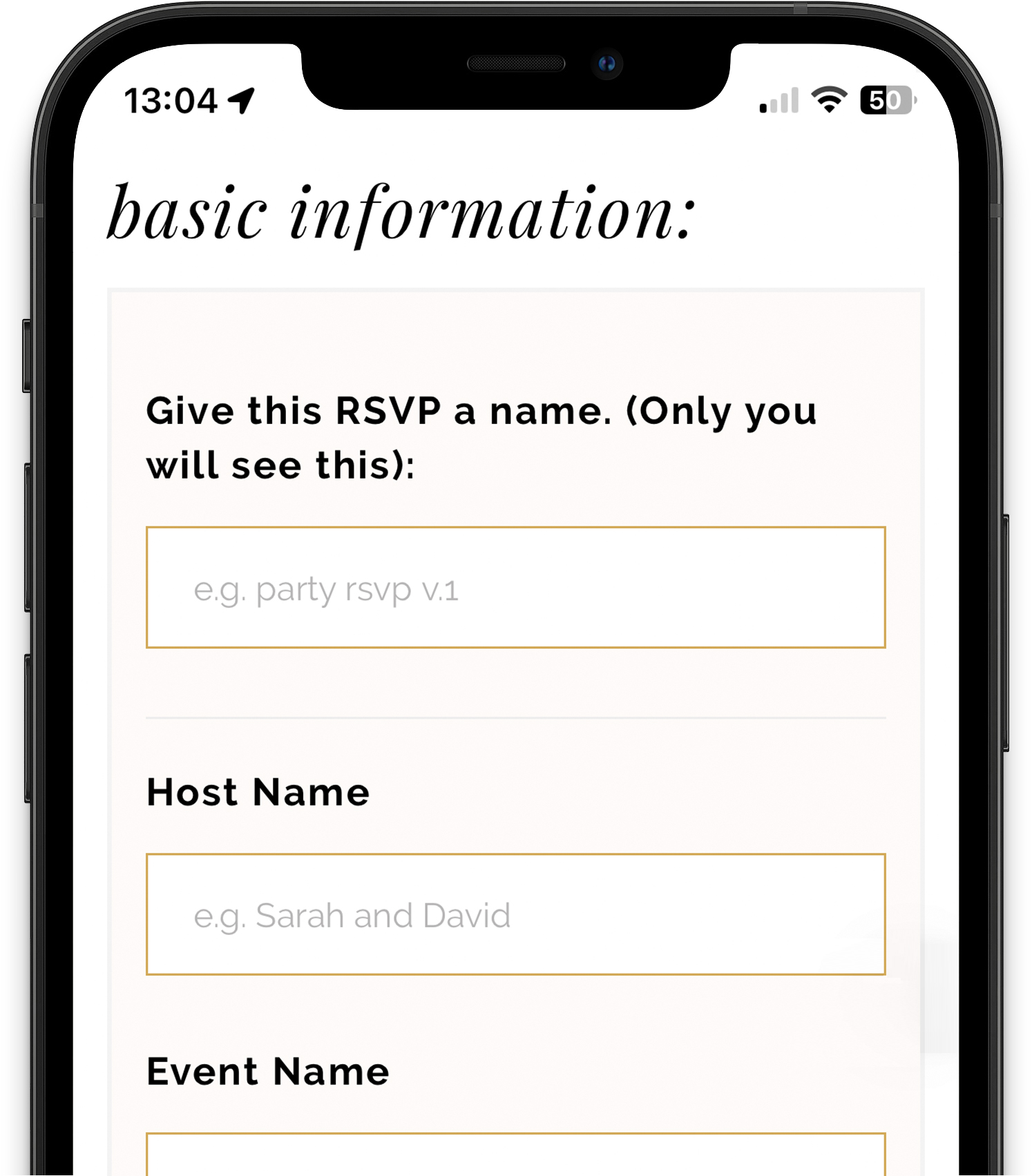 Simple to set up
Easily set up a funeral RSVP page on our website, with a step-by-step guidance through the process.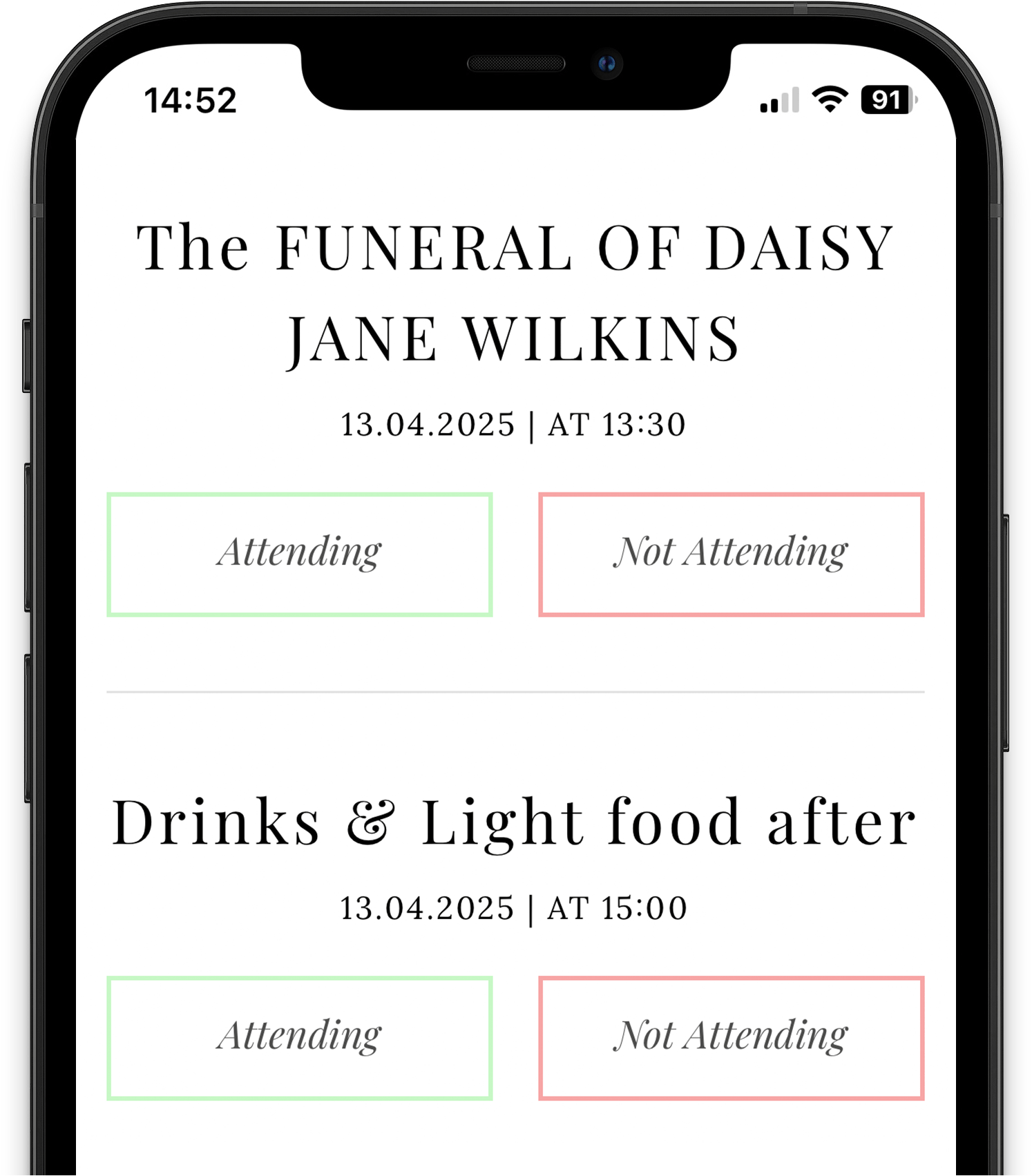 Manage the whole day
Our service allows you to track attendance for each segment of the funeral if it is composed of multiple parts. Especially convenient for planning catering arrangements.
More features to help you organise a funeral:
Explore the numerous advantages of using our digital RSVP solution for your funeral or memorial planning requirements. Along with ad-free experience and password protection, you can monitor guest responses effortlessly. Our online RSVPS are reasonably priced at £12.50. Take a look at the RSVP link below to see all the great features our product provides.
Create an online funeral RSVP now
---
a SIMPLE FUNERAL rsvp website
for the great low price of £12.50
Smartphone funeral invitations to match:
Our funeral RSVP links are accompanied by a collection of online funeral invitations that are optimized for mobile phone screens. The idea is to send out both the RSVP link and the invitation at the same time - perfect for those of you looking to go totally paperless. Additionally, when you order a digital funeral invitation, our digital RSVP service is completely free.
---

The funeral RSVP that works with...
EVERYTHING

.
Choose a way of sending your digital funeral RSVP that works best for you. Our electronic RSVP links are super flexible, so can be sent out, and received by any method you like.
E-mail; text message; WhatsApp; social media posts; printed invitations; in person;
anything

.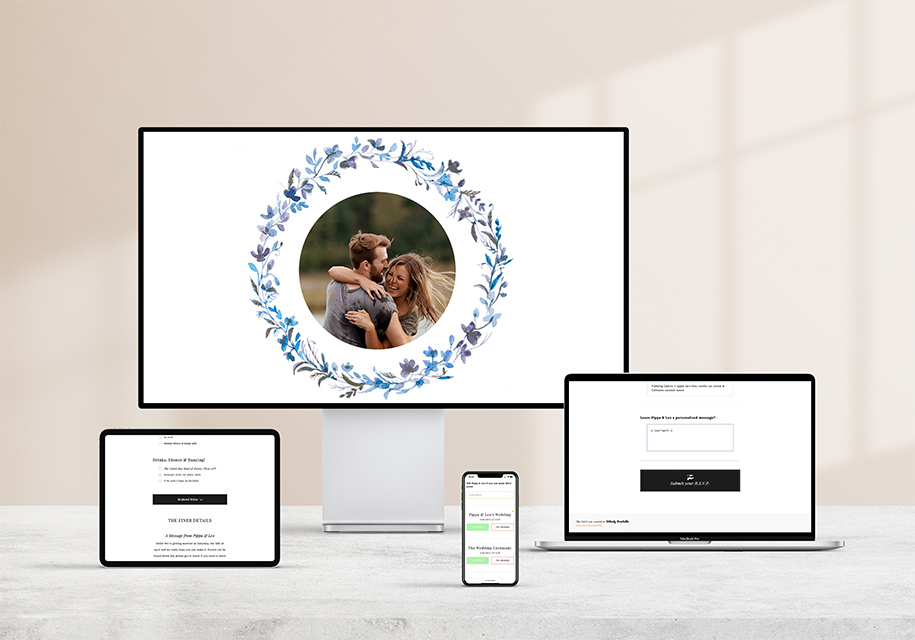 Create a digital funeral RSVP online

PASSWORD PROTECTION AS STANDARD FOR FUNERAL RSVPs
How to create you funeral RSVP online: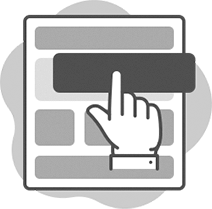 1. Input the funeral's details
What information would you like your guests to have? For instance, the start time of the ceremony, location of the wake, dress code, charitable donation details etc. You can also add custom questions, set up sub-events for multi-part funerals, and display any food options for the post-service gathering.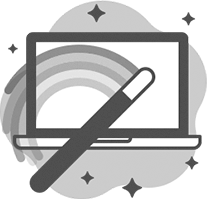 2. Customise it
Make your funeral RSVP truly reflective of the memory of the deceased by uploading cherished photos and choosing from a variety of design frames, and colour schemes. Personalise it and let the unique spirit of the funeral shine through.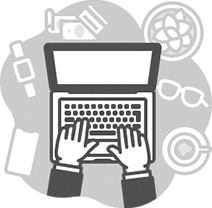 3. Personalise your RSVP link
Create a personalised web address (URL) that starts with 'www.RSVP.studio.' For example, you could have 'www.RSVP.studio/john-wilkins-funeral' to make it easy for your funeral guests to recognise. Your custom link essentially makes the RSVP its own mini funeral website.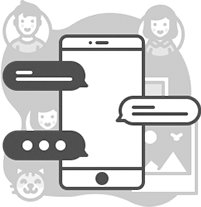 4. Send your RSVP out!
Our online RSVP system makes it easy to invite your guests to the funeral service and post-service gathering or wake. You will receive a link to your funeral RSVP that you can share with your loved ones in any way you like. Unlike other services, sending out your RSVP is not restricted to our system, and you don't need to manually upload or input your guest list, making the process as flexible and easy as it can be.
Finishing touches:
We understand the importance of security, That's why we offer a password protection feature for your funeral RSVP links, allowing you to set a password for added security. Additionally, if any changes need to be made to your RSVP, it can be easily done from your Utterly Printable account. From there, you can check the responses of your guests and even download them as a spreadsheet for your convenience.
With our online RSVP tool, we aim to provide you with a stress-free and secure experience for your funeral planning needs.
Create your digital funeral RSVP link
Frequently asked questions:
Hopefully the information below will address any queries you might have about our online RSVP service. If not, then please do not hesitate to email us at [email protected].
What is a digital RSVP link?
Our digital RSVP platform allows you to create an online form or web page for guests to respond to your event invitations. Invitees can use the link to enter their attendance details and any additional information you may need. This helps you keep track of responses and simplifies the event planning process. Our platform is easy to use for both organizers and guests. Try it out today to streamline your event planning.
Do I need to upload a guestlist, emails, telephone numbers or anything like that?
No, you don't need to upload any personal information about your guests. Our RSVP platform is designed to be flexible and easy to use. You will receive a custom RSVP link after placing your order, which you can share with your guests through any method you prefer, such as WhatsApp, SMS, email, social media, or printed stationery. Your guests will have the same experience regardless of how you share the link with them, and you can be confident that your RSVP will be received.
Can I send out my digital RSVP for free?
Yes! We charge a fixed price of £12.50 to create your digital RSVP on our system. Once you have completed checkout, you can send your RSVP link out to as many guests as you please for no additional charge.
I'm placing an order with Utterly Printable. Why is my link "www.RSVP.studio"?
A good question! Whilst we love the Utterly Printable brand, it is a fairly long name. To make our RSVP links as light-touch as possible, and to prevent your RSVP from looking too "branded", we bought the domain RSVP.studio. All your guests' responses are routed through that web address, and straight into your Utterly Printable Account section.
Can I personalise my RSVP Address (URL)?
Yes absolutely! The last step of setting up your RSVP online gives you the opportunity to set the exact web address that you would like your RSVP link to have. The start of the link must be "www.RSVP.studio/", but everything after that is up to you! So, for example, you could opt for "www.RSVP.studio/joe-and-tims-wedding". Please just note that you are unable to change this once you have placed your order!
Why isn't my RSVP link working in WhatsApp?
If you have completed the checkout process, your link should be functioning properly. One common cause of issues with links is forgetting to include "www." at the beginning of the link (URL). Make sure to use the entire RSVP link as it appears in your account and confirmation emails when sending it through WhatsApp. If you continue to experience problems, don't hesitate to reach out to us at
[email protected]
for assistance from one of our technicians.
What is the difference between RSVP.studio, and a wedding website?
Our digital RSVP service is very similar to a wedding website in that it provides a central location for information about your event, such as the venue, schedule, accommodations, and registry. In addition, our electronic RSVP platform allows you to collect responses from guests. In this way, our digital RSVP service functions as a wedding website and can be a really helpful tool for organising your big day.
Do I need an app to create my RSVP, or my digital stationery?
You don't need an app to create your RSVP or digital stationery. All the necessary tools are available on our website (utterlyprintable.com). You can make edits and manage responses from your account section. Recipients of the online RSVP link also don't need an app to access it. Everything can be done through the website.
I'm not tech-savvy…is your online RSVP service easy to use?
Our digital RSVP platform is designed with simplicity in mind. With a user-friendly interface and straightforward response options, you'll have no trouble using it to manage your event.
How long does it take to create a personalised RSVP link online?
The time it takes to create a digital RSVP link for an event can vary based on the complexity of the event. For example, a simple party invitation may only take a few minutes to create, while a multi-day wedding with various sub-events and meal options may take longer. However, you can save your progress in your Utterly Printable account at any time and return to it later if you need to.
Where can I find my guest's replies?
You can view all of your replies in the
"RSVPs"
section of your account area. This section allows you to see each response individually or download all responses as a spreadsheet. Keep in mind that you will need to download the spreadsheet again if additional responses come in. This feature makes it easy for you to manage and track the RSVPs for your event.
How do I update my event's date and/or location?
Any and all changes to your event's details can be made in your account area, under the RSVP section. They will instantly be reflected in the details your guests see when they click on the response link you sent them.
Can I pause my RSVP?
Yes! Our personalised RSVP platform includes a pause feature, which previous customers have found useful when they need to stop replies coming in for a while. To use this feature, go to your account area and pause your RSVP at any time. Simple!
Can I upload photos to my digital RSVP?
Yes! We offer several photo frame templates that you can use for the top of your RSVP link. It will be the first thing your recipients see when they open the RSVP link. And if you change your mind down the line, you can upload new photos to your design from your account area.
Can I tell when someone has opened/read my digital RSVP?
Unfortunately, not. You will only know for certain when a guest has filled out and sent back your RSVP. At that time, their responses will appear in your account area, and you will be able to download all your responses as a handy spreadsheet. Whilst you are not able to track the opening of and RSVP, we recommend sending your response links out via WhatsApp where possible, as – for the most part – that will give you an idea as to when a message has been received.
Top Tips:
Here are some tips for getting the most out of your digital RSVP service, including content, some great new features, and some advice on how best to send your RSVP out to guests.
It's a lovely idea to use your RSVP link on printed stationery. This approach works particularly well for
wedding invitations
and
save the dates
because it allows couples to keep their printed invitations simple and focused while still collecting important information from guests, such as their attendance. You can also use our RSVP service as a custom wedding website.
We have a charming range of premium, printed wedding invitations right here on our website. Check them out!
The easiest way to share your custom RSVP link with guests
Using WhatsApp is a good option for sending out your RSVP link. It is a widely used messaging platform that allows you to see when your message has been received. You can also use the Broadcast List feature to send the link to multiple guests at once without creating a large group chat. This list can also be saved for future updates on your event if needed.
Great content ideas for your RSVP
When creating a digital RSVP link for an event, be sure to include the following information:
The purpose of the event: Clearly state what the event is and why guests are being invited.
Date and time: Include the date and start time of the event, as well as any details about the duration or end time.
Location: Provide the address or location of the event, along with any directions or parking information.
RSVP deadline: Set a deadline for receiving RSVPs so you can plan accordingly.
Contact information: Include your name and contact information in case guests have any questions or need to get in touch.
Response options: Offer clear options for guests to indicate whether they will be attending and, if applicable, any additional information they need to provide, such as meal preferences or plus-one details.
By including these details in your digital RSVP link, you can make it easy for guests to understand the event and provide their responses. Fortunately, our RSVP platform guides you through the setting-up process. You can set your event up in no time at all.
Edit your electronic RSVP's content even after you've sent it out
Our online RSVP tool offers a convenient feature that allows users to edit all of their details on their RSVP, even after they have completed checkout or sent the link out to guests. This means that you can make changes to your RSVP at any time, whether you need to update your response, add or remove guests, or modify any other information. This flexibility can be especially helpful if you need to make last-minute changes or if you realise you have made an error on your initial RSVP. By providing this feature, we aim to make the RSVP process as smooth and stress-free as possible for you.
Similarly, you can also password protect, or temporarily pause you RSVP link at any time. This can be done with the click of a button from your account area.
Password protect your RSVP at any time
You can prevent random third parties from accessing your RSVP by using our handy password protection feature. When active, it will lock down your event content with a password. Any respondees will need to enter this password in order to view details about your event. To activate this feature and set a custom password, go to your
account area
. Just be sure to send the password out with the link to your custom RSVP.
Send your RSVP to guest WORLDWIDE:
Our digital RSVP platform allows anyone with internet access to reply, regardless of their location. The platform's links work around the world, making it easy for people to RSVP to your event from anywhere.
Save and come back to your RSVP later
Our digital RSVP platform includes a convenient save feature to help you if you need more time to complete your RSVP. If it takes a little while to create your RSVP, you can simply save your progress and come back to it later. Your progress is automatically saved to your account, making it easy for you to pick up where you left off. This feature helps ensure that you don't lose any of the information you've entered and can complete your RSVP at your own pace.