PRINTED STATIONERY SAMPLES FOR £3.49 // PRINTED IN THE UK

design & print
for funerals
welcome to our funeral collection
Here you will find everything you need to help organise a funeral. From funeral announcements, to order of service, to thank you cards, we're here to help at every step of the way.
our funeral products
When it comes to funerals, printing is of course a secondary thought. Regardless of this, we have setup our funeral printing service to make a tough time for anyone that little bit easier. Invite loved ones to the funeral ceremony with elegantly designed funeral announcements; detail the hymns, readings and prayers of your ceremony with our order of service designs; and send thanks for all the love and support with our funeral thank you cards. All designs are available for print or download.

funeral order of services
elegant funeral programs. easy to design
It's easy to design your funeral order of service online. Choose from our 4 page (folded card), 8 page or 12 page booklets to start designing. All you need to do is paste in the ceremony details. Beautiful order of service designs are only a few clicks away.
print for funerals: before & after
To help make sure that everyone knows about an upcoming funeral, we have an elegant range of traditional funeral announcements. For after the funeral, show your appreciation for all the love and messages of condolence with a photo funeral thank you card.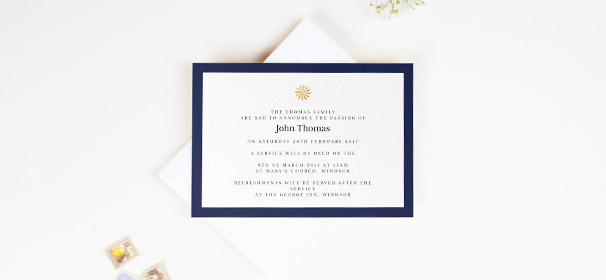 funeral announcements
An excellent and traditional way to invite loved ones to an upcoming funeral. Include photos in your design for an extra-special touch.
funeral thank you cards
After the funeral has come to pass, send out gratitude to your friends and family with a printed funeral thank you card. Easy to personalise with photos and messages.
our printing service
We offer a professional print service for all the funeral invitations, order of service and thank you cards on our site. We operate a state-of-the-art HP Indigo printer which will make sure all your text, photos and colours come out of our print house looking as they should. Likewise, the card and paper stocks we offer are professional-grade and environmentally responsible.
good to know
funeral programs
To suit every ceremony we offer 4, 8 and 12 pages order of service.
affordable printing
Keep your funeral printing costs low with our reasonable prices.
great service
Whether it's with the design or print process, we're here to help. Get in touch!