About Us
Personalised stationery, gorgeous designs & high-quality printing. Just who on Earth do we think we are?
You've probably already worked out that Utterly Printable is an online seller of digital and printed invitations, cards & announcements. But this page is here to tell you a little bit more about Utterly Printable as a company. Where have we been and where are we going? What matters to us and how are we doing our best to deliver it? Find out more about Utterly Printable below!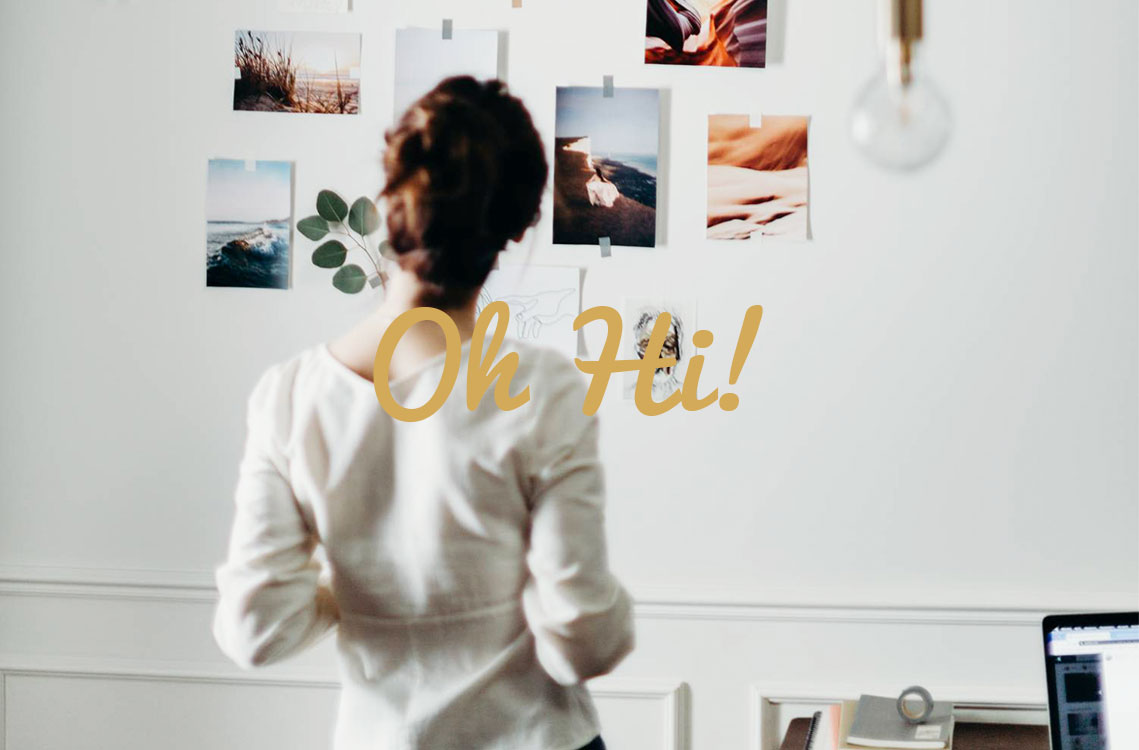 In a nutshell
Welcome to Utterly Printable! We are an innovative design & print company selling personalised invitations, cards and announcements. On our website you'll find products to cover all of life's most important events, but our core products include:
Fundamentally, we want to help people share, celebrate, mark, commemorate and communicate all the things that matter to them. Regardless of your style or budget, our aim is to make it easy for you to create beautiful, high-quality, personalised stationery.
We believe that everyone should have access to great design work, at affordable prices, at all times…and that is exactly what we strive to deliver!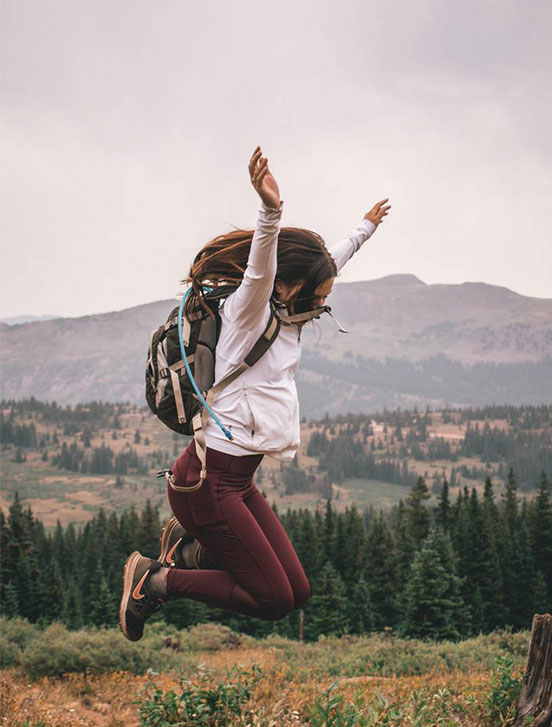 Classic Wedding Invitation Cards
Find out more about our efforts to become the most environmentally responsible printer around.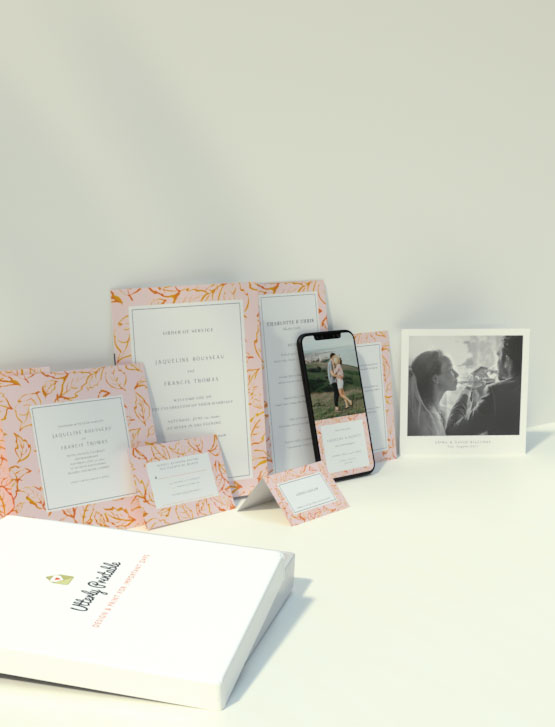 Personalised Stationery for All Occasions
Take a stroll through our extensive product range. Cards and invite designs for every big event!
Our Story & Mission
Utterly Printable was founded in London in 2016 by a team of design & print professionals with a burning desire to create a new approach to buying personalised stationery online.
Having operated online print companies in the UK for over a decade, we realised that no two customers were the same. Tastes, requirements and budgets vary wildly when it comes to statinery printing, so we set out to build a service that reflected this fact. In other words, we made it our mission to give as much choice and flexibility to our customers as possible, all at reasonable, affordable prices.
What does this look like in practice? To start with, it means a wide range of styles for each stationery product, which can be customised online, again and again, using our powerful in-browser design software. But beyond this, it means delivering the final design product in a format that works best for the customer and how they want to share their news or organise their big events:
For our customers looking for a professionally printed, classic invite, card or announcement, we have an industry-leading print offering based around high-quality, sustainably sourced card stocks.
For our customers working to a budget and wanting to print at home, or to work with a printer they already know and trust, we have made all of our designs available on a download-only basis (available worldwide) for the affordable price of £7.50.
For our customers looking for a modern and environmentally-friendly take on classic stationery products, we have our digital invitations and announcements designed specifically for smartphones. They can be sent out in minutes, have virtually zero carbon footprint, and come with a free digital RSVP service.
That is the Utterly Printable platform as it stands today, but it won't be like this for long. We are always on the hunt for new ways to differentiate and improve our design and print service to make it work for the wide galaxy of tastes and needs out there. We hope you choose to get on board for the journey!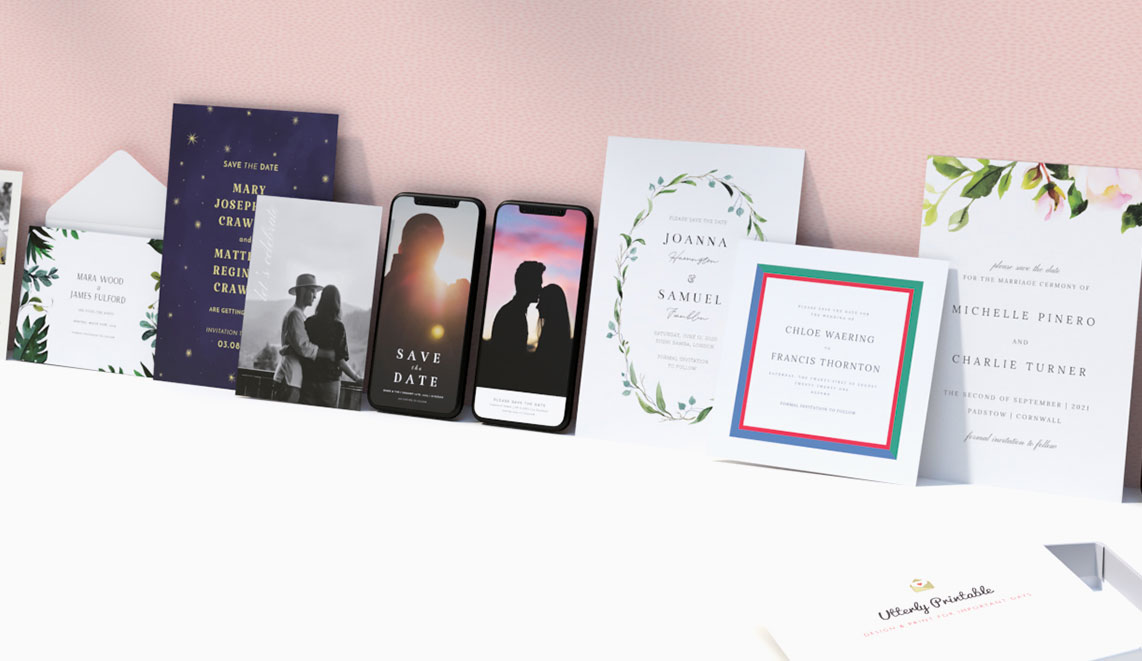 Check out our range of printed wedding save the dates, printed from just 39p per card
Our Paper & Printing
We love great printing. Here at Utterly Printable. we aim to cover all possible stationery requirements, from premium wedding invitations, to incredibly affordable wedding thank you cards. The card stocks we use never fall below a premium, GF Smith 324gsm card (think of the thickness of a good-quality business card). But we also offer a super-premium 350gsm stock and a 650gsm uncoated, textured card stock produced by Multiloft.
All of our paper is FSC certified, so comes from sustainably sourced trees. Beyond that, the print facilities we use take their environmental responsibilities incredibly seriously. Please contact us for more information on our environmental credentials. You can also follow the button below to learn more about our professional stationery printing service.
Learn more about our stationery printing
Our Designs
We were founded to provide great personalised stationery for all of life's big events: births & christenings, holidays, weddings, anniversaries, new homes, funerals, and memorials. From the modern and unique, to the traditional and formal, all of our designs have been put together with the utmost love and attention. It is our hope that within our collections there is a card or invitation design that suits your own personal vibe.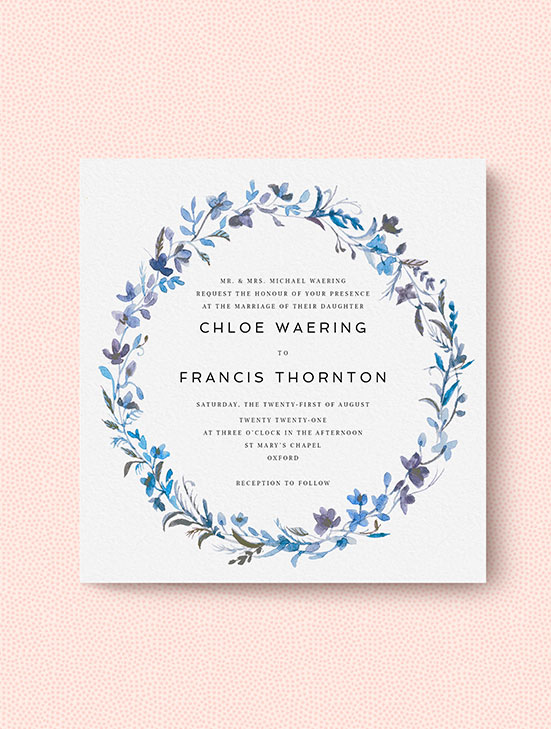 Classic Wedding Invitation Cards
Gorgeously traditional invitation designs fit for the archetypal wedding.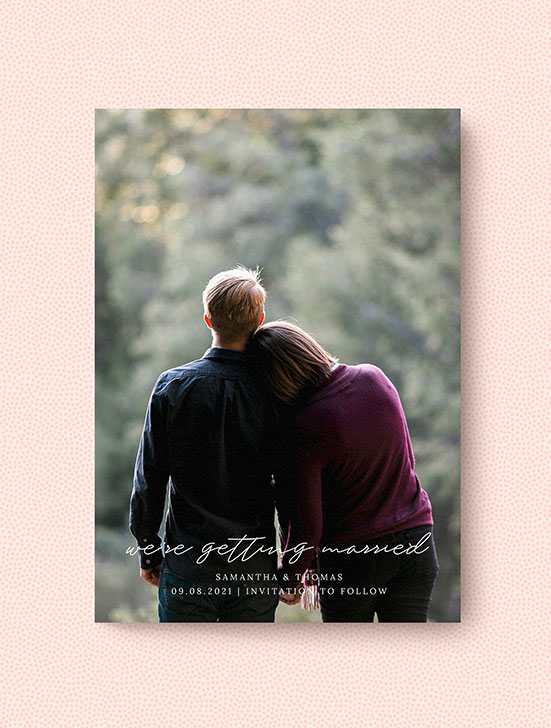 Wedding Save the Dates with Photos
Save the Date card with that extra-special photo touch.
Within our wedding stationery collection in particular, you will find designs that match across a range of different stationery products. We call this a design suite and they include matching wedding invitations, save the dates, RSVP cards, wedding thank you cards, order of service, place cards, and menus.
If you feel we're missing a particular product or style, then definitely let us know. We pride ourselves as being super flexible, so we'll do our best to get anything missing on the site as soon as possible!
Style-wise, we've tried to cater for everyone. You'll find designs that are timeless and traditional, as well as those that are modern and unique. We very much hope you'll find something to your taste.
Our Paper & Printing
As a provider of personalised invitations, cards and announcements, we aim to cover all of the big events that an individual, couple or family might go through.
In our wedding stationery collection, we have everything you need to get your wedding journey off on the right foot, starting with beautiful Save the Date cards, followed by wedding invites with matching RSVP cards and information inserts. For the wedding day itself, we have multi-page wedding order of service booklets for the ceremony, and menus and personalised place cards for the reception. And finally, once you've got back from your honeymoon, we have a brilliant range of affordable wedding thank you cards for you to print with a photo of you and your partner.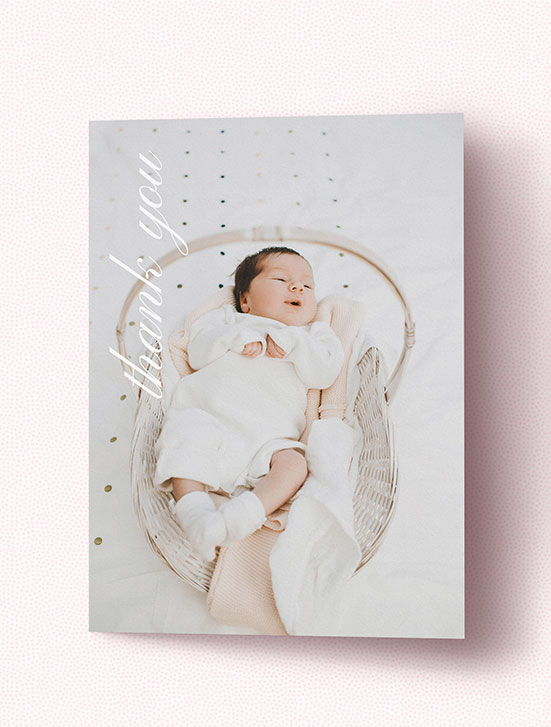 Cute Baby Thank You Cards
Send out thanks on the behalf or your new bundle of joy.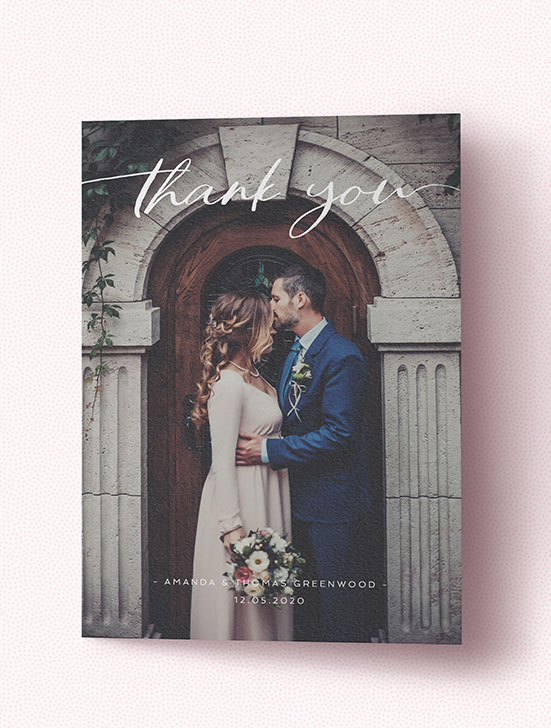 Photo Wedding Thank You Cards
Big gratitude for after your Big Day.
In our births and children collection, we have christening/baptism invitations, as well as invitations for first holy communion services. For the new parents out there, we have a cute range of birth announcement cards ready for you to design and print. And as a more general product, we have a charming collection of baby thank you cards ready for you to personalise send out to your friends and family.
Our funeral stationery range has a everything you need to organise an elegant memorial for your loved one. We have funeral announcement cards to spread the word, followed by funeral order of service booklets for the service itself. Finally, we have a collection of printed funeral thank you cards for you to use to send out your gratitude to all the well-wishers.
As a new product collection, we now offer many of the stationery items above in a smartphone-ready format. Designed specifically for sending out via smartphone, we have a great selection of digital wedding invites, text message save the dates, and electronic funeral announcements. Likewise, for the kids, we have digital birth announcements and text message christening invites.
Finally, as a more miscellaneous category of products, we have a great collection of personalised note cards and desk stationery, as well as change of address cards. Both are great for keeping loved ones abreast of your movements and news.
The point of the above section is that we have a wide range of products for you to browse and design online. And as always, our affordable, high-quality stationery printing service is at your disposal should you wish to make use of it.
Our Innovations
We have launched a couple of new features in the last few months that we are very proud of. We are always striving to improve what we do as an online print company and we hope this shows you some of the paths we are going down. Make sure you stop by this section soon to see what else we've been working on! We definitely recommend checking out our blog section for all our latest news.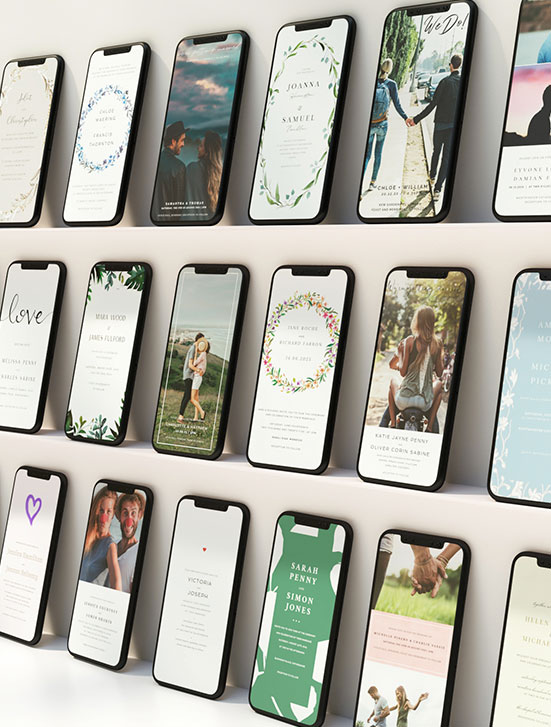 Digital Invitations for WhatsApp
We've launched a modern take on traditional stationery. Designed specifically for smartphones, our WhatsApp invitations are affordable (£7.50), environmentally friendly and free and easy to send out to loved ones. They also come with a totally free digital RSVP service to help you organise your event.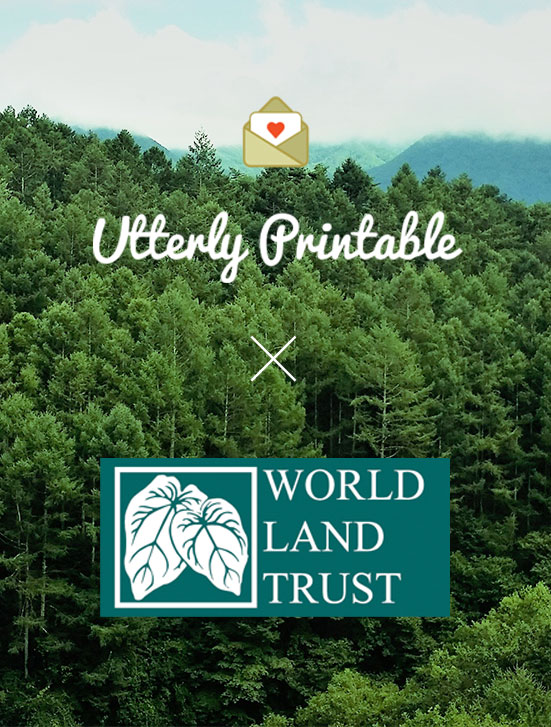 Carbon Neutral Wedding Invitations
In partnership with World Land Trust (WLT), we are giving our customers the choice at checkout to offset the exact carbon emissions generated by their specific order. The additional amount directly funds the protection of existing forests and the planting of trees via WLT. If you are looking for carbon neutral wedding invites, look no further!
Good product and templates with excellent customer service and communication
Lots of templates to chose from (although would have like more portrait photos for funeral order of service). Easy to use and customise.
The customer service was brilliant (Chris in particular). Quick, responsive and proactive. This is what excellent customer service looks like.
End product was high quality, and excellent materials.
Utterly excellent, highly recommend.
Taken from our Google MyBusiness page…
After visiting the very user friendly website, I found the designs tasteful and beautifully presented. After choosing the design, personalising eas a dream, with suggested wording & lovely fonts. Service was exceptional, we received our order exactly on the day expected. The quality of the finished product is beautiful. Cannot recommend highly enough.
Taken from our Google MyBusiness page…
Absolutely First Class! Fantastic quality prints supported by incredibly professional and helpful customer service. I am so glad i found Utterly Printable.. they went above and beyond to help me out in a difficult situation and I cannot recommend them highly enough! Chris in particular is a real asset to the team! Thank you all so much!
Superb customer service
I ordered funeral order of service cards which were on a tight turnaround. Chris went out of his way to ensure we received them on time, which was so appreciated. Cards themselves were beautiful. Would definitely recommend.
Amazing Quality
We ordered our save the date cards earlier this year at the start of the pandemic. Despite this, the delivery was very quick. The cards were easy to design and amazing quality when delivered. We have had many comments saying how much people loved the design too! We will definitely be back to order our invitations.
Taken from our Google MyBusiness page…
Brilliant customer service and excellent quality print. Would 100% recommend!
Taken from our Google MyBusiness page…
The service I received was outstanding. Utterly Printable answered my emails instantly and true to their word got my printing to me on time. Very pleased with the service, great customer care!
Taken from our Google MyBusiness page…
Chris and the team were fantastic in getting our wedding thank you cards sorted. There was a slight issue when we received the tester thank you card which was swiftly sorted by Chris. Would highly recommend and will be using in future
Taken from our Google MyBusiness page…
My change of address cards were beautifully printed and arrived very quickly. I found the website easy to use to adapt the card template to my own design. I opted for the cheapest card and was very pleased with the thickness and quality. Overall I would thoroughly recommend Utterly Printable to anyone looking for a really good selection of designs and quality cards. One very happy customer!
Taken from our Google MyBusiness page…
I have recently had a need to use Utterly Printable's website and place an order. Despite extensive searches over many days for something appropriate in terms of design and quality elsewhere, by pure luck I came across Utterly Printable. They are the only company I have come across with classic, timeless and beautiful designs to fit every occasion. As such, I didn't hesitate to place an order. I have been very impressed with the company's attention to detail, excellent customer service and genuine willingness to help at every step along the way. I shall have absolutely no hesitation in using them again and have already recommended them to others. Chris H will probably hate being mentioned by name. However, in acknowledgement of just how much he had done to go 'over and above' any customer service I could have hoped for, I simply wanted to say, with heartfelt thanks, "I am very grateful to you for all your help at this difficult time." Thank you Utterly Printable.
Find more Utterly Printable Reviews Here