PRINTED STATIONERY SAMPLES FOR £3.49 // PRINTED IN THE UK

Design & Print For
all occasions
welcome to our full collection
On this page you'll find our full range of personalised design products. They're all available for print and download.
WHAT ARE YOU LOOKING FOR? JUMP TO THE PRODUCT YOU'RE INTERESTED IN
Wedding Invitations
From start to finish, we have the design and print for you wedding covered. If you're just starting to organise your wedding, then our range of save the dates or wedding invitations are for you. Is your big day imminent? Don't panic- we have an excellent selection of 'on the day' wedding products to help make sure your big day goes off without a hitch. Finally, for those of you that have come out the other side, we have our brilliant personalised wedding thank you cards, great for uploading photos to.

WEDDING INVITATIONS
HANDCRAFTED INVITATION DESIGNS YOU'LL LOVE
You've booked yourself a wedding venue. Now it's time to design yourself a beautiful wedding invitation. Broken up into a range of styles, our wedding invitation card collection has something for everyone. Once you've designed your wedding invitation online, why not take advantage of our affordable print service? You won't be disappointed.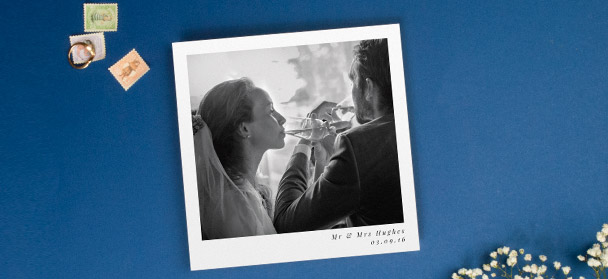 WEDDING THANK YOU CARDS
Super sweet wedding thank you cards. Add a photo of your wedding day for an extra special touch.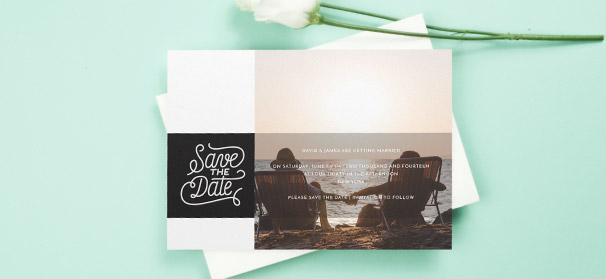 WEDDING SAVE THE DATES
Get off to a flying start with our wedding save the date designs. Personalise and send for print in minutes.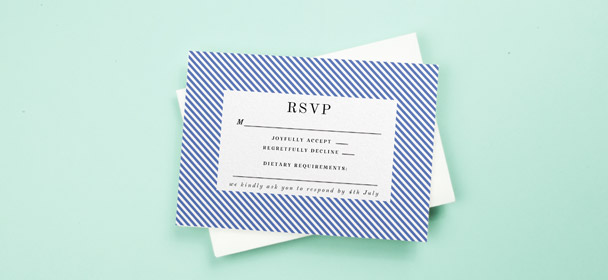 RSVP CARDS
Sort out the finer details of your wedding guest list with these brilliant wedding response cards. Matching wedding invitations available.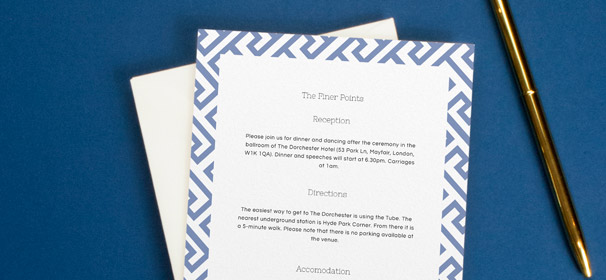 INFORMATION INSERTS
Let our wedding information inserts do the heavy lifting when it comes to your wedding. Personalise with all the information for your big day.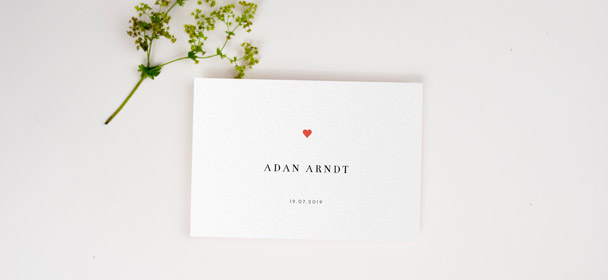 PLACE CARDS
Create a table fit for a proper wedding feast with our wedding meal place cards. Generate your place cards online in seconds.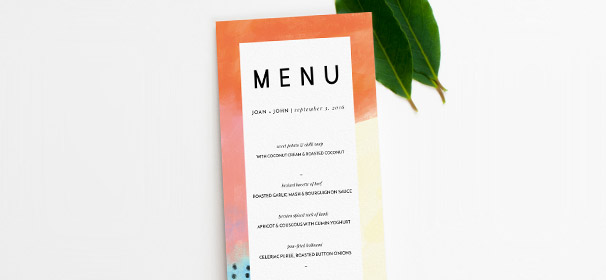 WEDDING RECEPTION MENUS
Done with the champagne reception? Time for the feast and merriment. Tell your guest what they'll be eating with our wedding menu designs.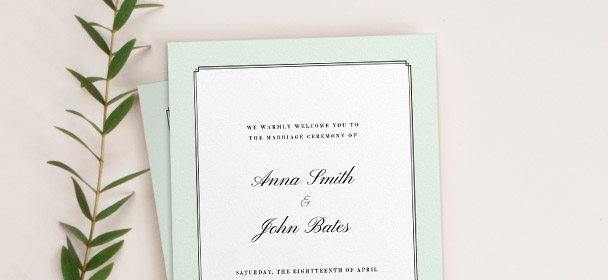 ORDER OF SERVICE FOR WEDDINGS
Create your wedding order of service online with ease. Just paste in your readings, blessing and hymns. Browse our excellent print options once you've finished designing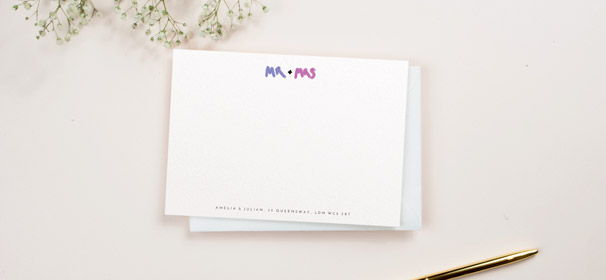 DESK STATIONERY FOR COUPLES
Get your married life off to an organised start with our selection of couple's wedding stationery. Dozens of personalised note card designs to choose from.
thank you cards
Thank you card designs for weddings, funerals, christenings, communions and babies. The point is, we have a lot of thank you cards here! Regardless of why you're thanking your loved ones, you can be sure that they'll be chuffed to bits with a beautiful Utterly Printable thank you card. Print your cards with us, or download and print yourself at home.

BABY THANK YOU CARDS
WELCOME TO the most adorable product
on our website
Beautiful baby thank you cards: perfect for saying 'thanks' for all the presents. But they're also great for showing off photos of your baby looking their best (i.e. not the photo of them with pasta on their head).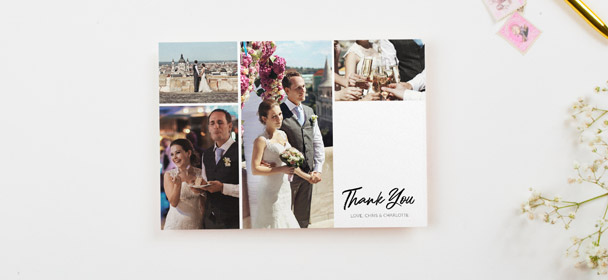 WEDDING THANK YOU CARDS
Send your thanks along with a printed memento of a fabulous wedding. Wedding thank you cards with photos are simply unbeatable.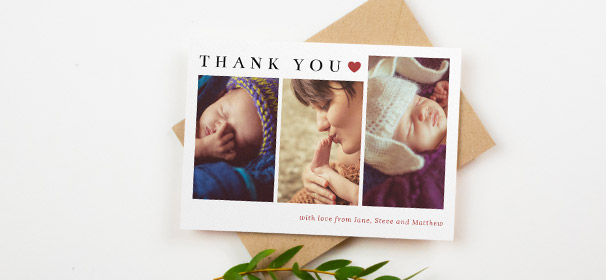 CHRISTENING THANK YOU CARDS
Round off your baby boy or girl's trip to church by thanking all your attendees. Design your christening thank you cards with a photo for an extra special touch.
order of service products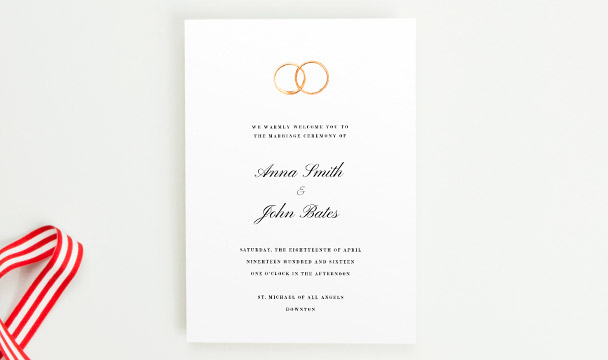 ORDER OF SERVICE FOR WEDDINGS
Classic wedding programs for the perfect wedding
Don't be daunted by the task of creating a traditional wedding order of service. Our online designer tool makes creating your own order of service as easy as could be. For longer ceremonies, we have our 8-page and 12-page order of service booklet options. Once you've created yours, check out our excellent printing options to see how we can help
ORDER OF SERVICE FOR FUNERALS
Classic designs, lovingly made for funerals
Allow us to make designing your funeral order of service easy. Once you have the details of the funeral or memorial (eulogy, hymns, prayers etc.), simply paste them in to your selected order of service design. Many of our order of service designs also have places for you to upload photos of your loved one.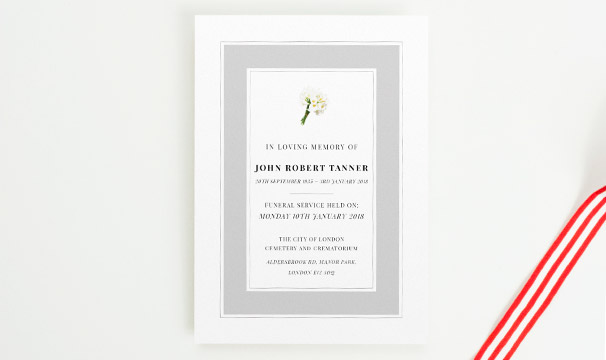 personalised note cards
Add a touch of brilliance to your correspondence with our range of personalised desk stationery. Printed and personalised correspondence cards are a marvellous way of keeping in touch with your friends and family. Browse our selections below to start designing your note card.

note cards for couples
stylish desk stationery for modern couples
Joint note cards for couples that enjoy high-quality desk stationery. Our correspondence designs cards range from the traditional and elegant, to the modern and abstract. We're sure you'll find something you love.
funeral products
When it comes to arranging tasteful print for a funeral, we have you covered. We have a range of three funeral-specific design products: funeral thank you cards, funeral order of service, and funeral announcement cards. Elegant designs, professional printing and affordable prices.

funeral announcements
easy to design funeral invitations
With our funeral announcement cards, our aim is to take the stress out of inviting people to a funeral. The card designs are tasteful, elegant and simple to personalise online. We then offer a professional print service to take care of the printing.
our baby products
Let's face it, babies and children can be a source of stress. But at least when it comes to organising their printed stationery, we can help. Whether it's baby thank you cards, christening invitations, birth announcements or anything else, we have lovely range of card designs that are easy to personalise, and affordable to print.

baby thank you cards
thank you from your baby (written by you)
When your friends and family have spoilt your new-born baby boy or girl rotten, it's time to design yourself a baby thank you card. Dig out your baby's cutest photos and upload straight onto your thank you card design of choice. Once you're done creating your card, you can choose to print it with us, or download a digital copy and print at home. Easy!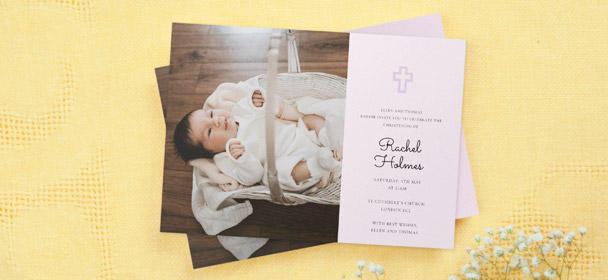 christening invitations
Christenings are a joyous occasion. Get off to a good start with our range of christening invitation designs.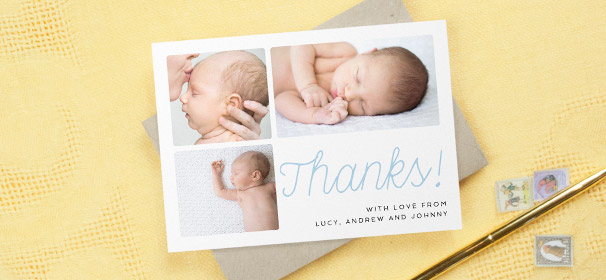 christening thank you cards
Christening presents are the best! Make sure you send your thanks with our cute selection of christening thank you cards with photos.

birth announcements
a new baby: the sweetest of news
If you have a new baby boy or girl on your hands, then look no further. We have a delightful collection of cute birth announcement cards, ready for you to design and print. You'll find birth announcements with photos and without, but all are easy to personalise online and are available for print or download.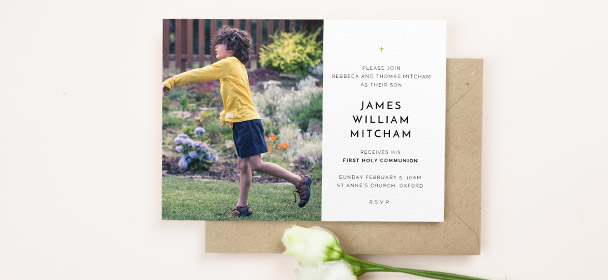 communion invitations
They grow up so fast! Browse our collection of communion invitation cards to help mark a big milestone in your son or daughter's life.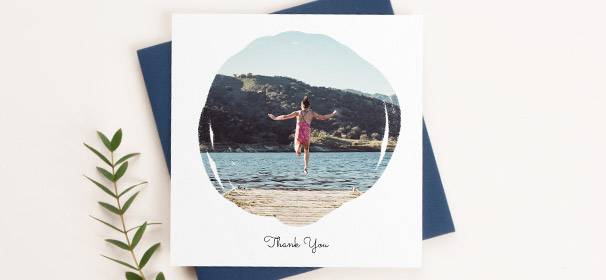 communion thank you cards
After a child's communion, these printed thank you cards are a great way to show your appreciation.
our printing service
We offer all the products on this page on a 'download-only' basis. This means that you can pay a flat fee and download a digital copy of your personalised design. However, we are fundamentally a print company and we have a professional and affordable print service that we hope you'll take advantage of. We operate a fantastically high-quality digital press (HP Indigo 10,000), which is capable of producing great colours, photos and fine details. Furthermore, we have a great selection of card and paper stocks for you to choose from. Perfect for printing the high-quality stationery you deserve.
why order with utterly printable?
great card stocks
Our cards and invitations are available on 3 amazing card stocks: 324gsm, 350gsm and a superthick 650gsm.
affordable printing
Beautiful card, invitation, and announcement designs that won't break the bank.
printed in the uk
All printed products come out of our UK-based print house. Buy British!