What to put on your wedding RSVP card?
Words by Utterly Printable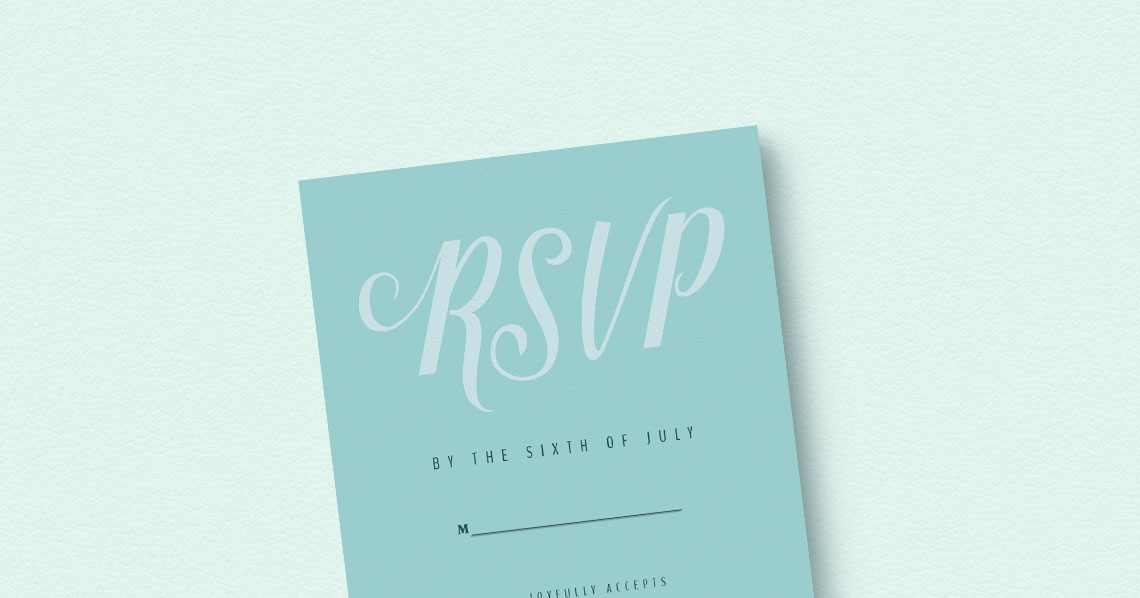 No matter whether you're planning a traditionally British black-tie affair, or a boho-chic festival in the middle of nowhere, when it comes to RSVP card printing there are still a few rules which need to be adhered to. One of those is the type of information you need to provide your guests with, and the other is the type of information you need to retrieve from your guests. If you're just starting the process with your wedding invitations, then have a look through our guidance found in our blog section. If you have already designed your wedding invitation but are wondering about what other information and cards need to be included in the envelope with the invitation, then this is the perfect article for you.
Alongside the actual invitation, which hopefully provides your guests with all the information they require in order to make a decision on whether or not they can attend your big day, you will also need to send out details on how guests can RSVP. For many couples that means including a printed RSVP card along with an addressed and stamped envelope ready for guests to send back. You might be wondering why you need to include a method of RSVP at all, and this is a good question.
Most catering companies and wedding reception venues require an accurate head count at least two weeks before the date of your wedding to ensure they have the correct equipment and staff available for your big day. Alongside the guest numbers it is also vital if you're serving any food that you know about guests' allergies and preferences so that your caterers can make sure that everyone has something appropriate to eat on the day. Wedding response cards are also an easy method for collecting additional information that might be useful to you, such as song requests or menu preferences if you're providing a choice. Below we have provided a list of the key details that you need to include on your wedding RSVP card, along with some possible wording templates to give you some inspiration on how to write yours.
Key details to include on your RSVP card:
RSVP date
There are a few ways you can request the RSVP by here are some examples:
RSVP by the Twentieth of May (this date should be 2-4 weeks before the wedding date)
The favour of a reply is requested by May 20th
Please respond by May 20th
Kindly reply by May 20th
Your reply is requested by May 20th
A space for guests to write their name(s)
You can do this by either writing: M/Ms……………………………
Or by simply writing: Name(s)…………………………..
A check box for guests to accept or decline the invitation
You can either simply write the words accept or decline next to a tick box or get creative and fun with one of the following word templates
Accepts with pleasure/declines with regret
Wouldn't miss it for the world/Will celebrate from afar
Yes, lets live it up/ No, and I'll forever regret this decision
Will be there, and will not be square/Will not be there, and therefore am square
Hell yes!/Damn, can't make it
Bags are packed!/Will be thinking of you at home
Additional information
This can be anything that will be useful to you as a couple to know:
Allergies, intolerances, and preferences such as vegetarian or vegan or religious limitations
Song requests to pass onto your DJ
Meal preference if you're offering options (for example: beef, chicken or vegetarian)
If you're offering transport between the ceremony and reception whether your guests would like to take this up.
If you are taking advantage of our new 'Wedding Invitation via WhatsApp' service, then you will also be able to use our free digital RSVP add-on. Instead of printing and sending out a physical RSVP card, you can send out a simple wedding RSVP link which you guest can fill in online. This digital RSVP service also allows you to send out further information about your big day, meaning you don't need to print any wedding invitation inserts either. They're low cost and eco-friendly: isn't that nice?