PRINTED STATIONERY SAMPLES FOR £2 // PRINTED IN THE UK

Design & Print For
Important Days
Personalised stationery made easy
From wedding invitations and save the dates, to birth announcements and baby thank you cards. We're here to make the designing and printing of beautiful stationery quick, easy and affordable.
OUR FULL RANGE OF PRODUCTS

charming designs
Beautiful designs, all setup for you to personalise and print.
affordable printing
Great design & print: finally available at reasonable prices.
£2 samples
Hold a printed sample of your customised design for just £2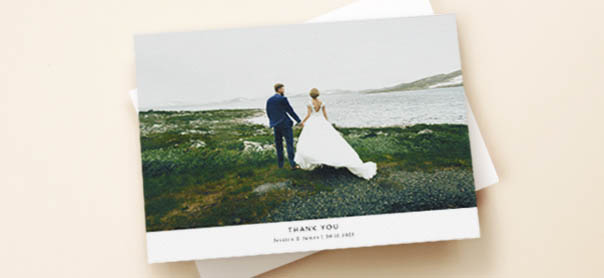 WEDDING THANK YOU CARDS
Make sure you say 'thank you' in style with our range of wedding thank you cards. Create your photo thank you card in minutes.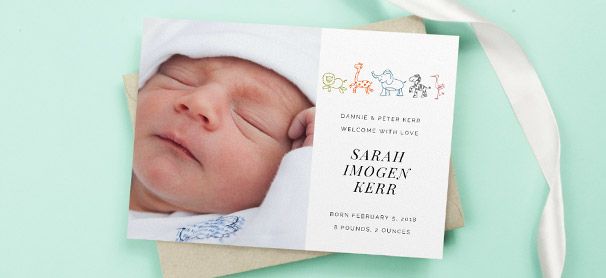 BIRTH ANNOUNCEMENTS
It's time to introduce your new baby! Share the love with our range of cute birth announcement cards.
WEDDING INVITATION PRINTING
Is it time to start organising your big day? Well we have the wedding invitation design to suit your style. We've put together a broad collection of invitation designs to cover all styles: simple, classic, modern, photo and much more. For those of you organising summer or spring weddings, we have a particularly fine range of floral invitations for you to peruse. So even if we can't guarantee that your friends & family will make it to church on time, at least it won't be because of your beautifully design wedding invitation.
See The Full Collection

Print or Download
print with us or print at home: we're flexible!
print with us: personalise your card online then choose from our charming range of high-quality cards and papers. Our print house will take care of the rest. We'll courier your printed stationery directly to you. Learn more.
Download: As a great low-cost option, all of our designs are also available for download-only. Create your card or invitations online, download as a PDF, then print at home or send out electronically. Simple!
baby thank you cards
Personalised baby thank you's by the bucket load
Send your appreciation for all the new cuddly toys, onesies and gifts with our range of personalised baby thank you cards. Available for both print and download, our baby thank you cards are a great way to thank your friends and family for their love and support on the behalf of your new baby.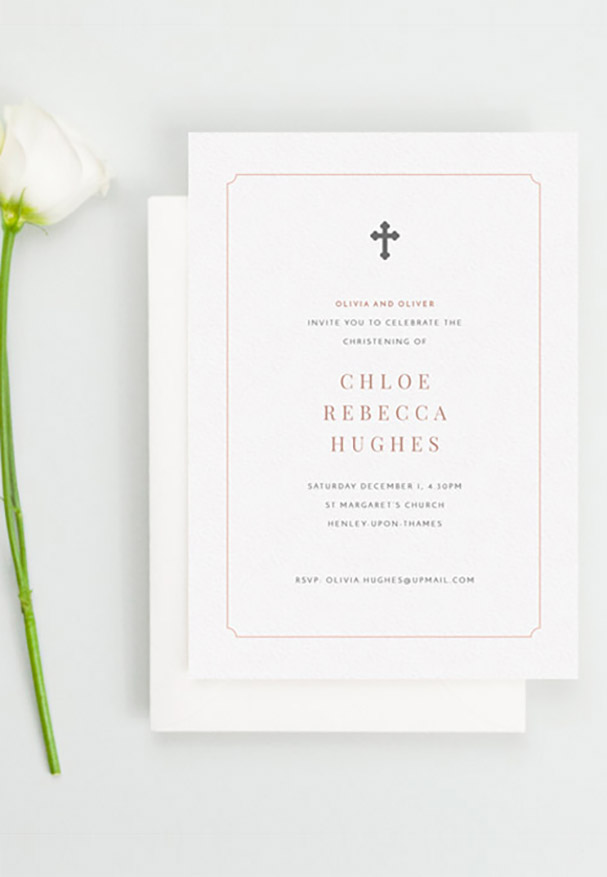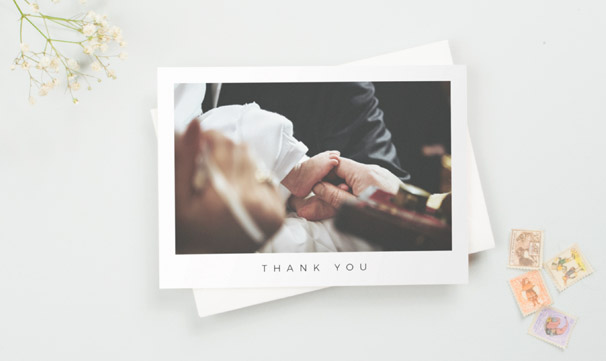 CHRISTENING INVITATIONS & THANK YOU CARDS
Does your baby have a big day in church on the horizon? If so, our range of christening invitation cards are the perfect way to get your friends and family to the ceremony on time. We have a broad range of invitation styles. We have christening invitations that are religious and traditional, as well as designs that are more modern and vibrant. It's easy to create a personal message and enter details about the church service using our online designer. And many of our christening invitations have also been designed to include photos. Just click to upload a photo of your baby.
If your child's christening has been and gone, then you might be interested in our range of christening thank you cards. Find the card you like and add photos and a personal message. They're a great way of saying 'thank you' after an important moment in a baby's early life.
Most Popular
wedding thank you cards
Send out the warmest of thanks with our beautifully printed wedding thank you cards. In particular, we think a photo thank you card is the perfect little memento of a great wedding. Create your card design in minutes using our simple online card designer. All of our wedding thank you cards are available for professional printing on 2 premium card stocks. What could be simpler?
See The Full Collection
Include beautifully designed
ENVELOPES
with your order
We're thrilled to inform you that we have a great range of premium envelopes on offer to accompany any print order placed here on our site. The envelopes are made from a charming 150gsm uncoated paper. Our premium selection of envelopes has been printed on the inside of the flap to give an extra special effect. You can select from several printed designs and patterns during the checkout process.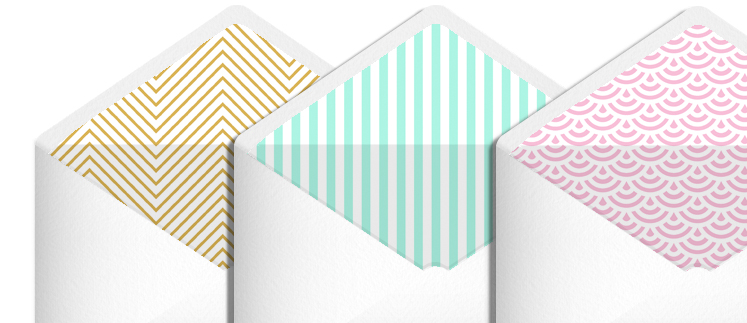 Beautiful wedding thank you cards
Absolutely love our thank you cards! They were super easy to design, arrived quickly, and I am really impressed with the quality and "feel" of the paper and envelopes – beautiful, they look so classy! Best of all, no plastic involved in the shipping, it is such a nice touch to see everything carefully wrapped in paper and cardboard instead.
Order of service
We used utterly printable for our wedding order of service. We really love the final print, brilliant quality paper and they were delivered a day early. So excited to be sharing them next week at our wedding. We found Chris to be super helpful with customer service. We'll be using UP again in the future!
Wedding order of service
Very happy with the service – quick and easy with hugely helpful customer service. We asked for a personal image to be included and Chris replied straight away to accommodate our request! Very happy with the finished product thank you!
Wedding Order of Service booklet
Fantastic service, ordered Sunday, Delivered Friday. The Order of service booklets are beautiful, website so easy to use. Highly recommended, thank you xx
Wedding Order of Service booklet
Fantastic service, ordered Sunday, Delivered Friday. The Order of service booklets are beautiful, website so easy to use. Highly recommended, thank you xx
Great Quality, Service and Prices
I came across Utterly Printable whilst searching the internet trying to organise a celebration of life order of service. I have looked at other companies and found them to be very expensive and with quite hard to follow instructions on how to design my own booklet.
NOT so with Utterly Printable I found a great choice of designs with very simple and easy to understand steps in designing my own unique booklet. I could save my work easily and return later to complete my order. I had originally thought that I would print out my order of service to keep costs down but the price to get them printed by Utterly Printable worked out so reasonable I saved myself time and effort by getting them professionally done by them instead. My order arrived quickly and I was very impressed with the quality of the product. These order of service books are going to be an important part of my mums day and I am very pleased that they will do her justice. I will definitely use Utterly Printable again and recommend their services to others.
Fabulous service! So glad I found you!
Ordered on a Thursday. On my doorstep on Monday afternoon! Super quality New Home cards and a very reasonable price! Thank you and I'll definitely use you again!
Brilliant service
Brilliant company, really impressed with the outstanding customer service I received, they noticed the date of the service was very near and without asking they fast tracked my order, What I received was of the highest standard and remarkably priced.
Outstanding will definitely use again,
Order Of Service
Chris from Utterly Printable was extremely helpful and my order was produced and shipped in super quick time. I was very happy with the result and won't hesitate to recommend this company.
Excellent!
Great Quality, Great Service
I recently had to arrange an Order of Service for my father's funeral. The cost from the Funeral Director was crazy so I wanted to do something myself but without compromising the quality.
I did my research online and utterlyprintable.com had the best range of templates and a very good price point. The online template was easy to use, including the upload of photos, and they have a wide range of fonts, colour and sizing choices to suit everything I needed.
One thing I appreciate more than good quality is good service. I wanted to be sure that I got the Order of Service in good time. I got on the phone to their customer support and they went above and beyond to alleviate my fears on the delivery and they arrived earlier than expected.
The final product arrived today. The quality of the card and the print is excellent. I will definitely use utterlyprintable.com again, hopefully not for another funeral, and they are bookmarked on browser so I can recommend them to friends.
Many thanks to the team at utterlyprintable.com.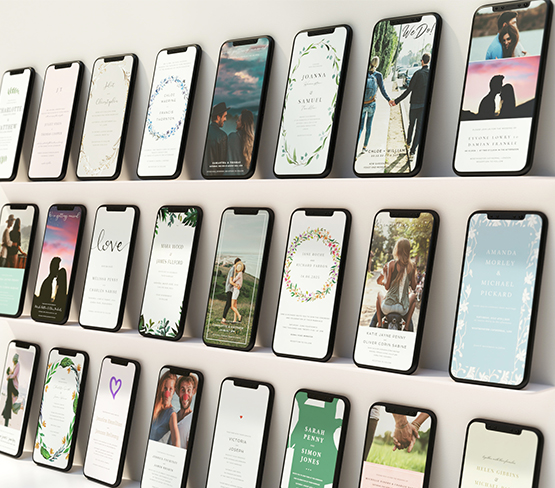 NEW: DIGITAL INVITATIONS & ANNOUNCEMENTS
Meet our fab new range of invitation for WhatsApp & Text Message. The perfect, paperless alternative!
FREE DIGITAL RSVP SERVICE!
You'll get a FREE RSVP service with your electronic invitation. Take a look at our most popular products in the range:
little things add up
CARBON BALANCED PRINTING
We're striving to become the most sustainable printer in the UK. From eco-friendly wedding invites to recyclable thank you cards, we're always trying to keep the planet in mind.
And now, in association with World Land Trust, we're offering you the choice as a consumer to offset the carbon footprint of any print order on our site. Your efforts will directly fund the protection and restoration of forests around the world. Carbon capture at its finest.
It's a great first step to organising a carbon neutral wedding.
save the date for your wedding in style
A gorgeous, personalised save the date design is the first step in organising your wedding. We're here to help you get off on the right foot with a broad collection of wedding save the date designs. Designing is simple: browse our save the date card collection to find the design that works for you, then personalise your card using our online designer tool. Once you're finished, you'll have the option to print or download your save the date design. Easy!
See The Full Collection
Printing for weddings: on the day
Great printing can really add to your wedding. It can help things run smoothly as well as compliment your wedding's theme and feel. We have a few lovely little printed products and designs that will most certainly help with your wedding. Check them out!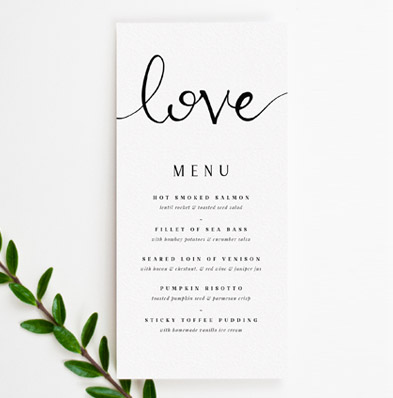 WEDDING RECEPTION MENUS
Let your guests know what's for dinner with a beautiful wedding menu. We think a well-printed menu looks fantastic sat on your wedding reception table, and no matter what food is being served up at your meal, we have the wedding menu to match.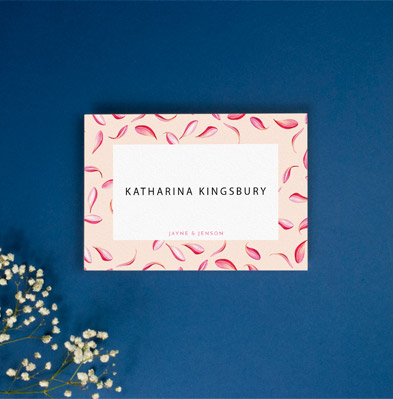 PLACE CARDS
No one likes milling around at a wedding reception wondering where they're supposed to sit. Our bold, printed personlaised place cards will look fantastic on your table and will get everyone sat down in time for first course. Generate your personalised place cards online now.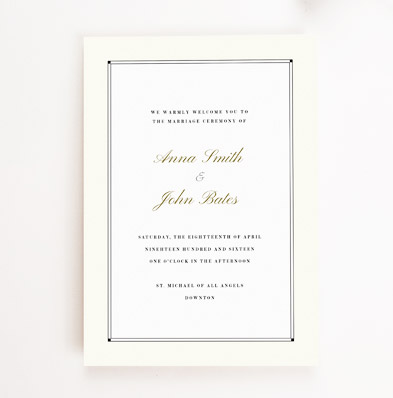 WEDDING ORDER OF SERVICE
Whether you're planning a humanist or church service, our charming wedding order of services will help your ceremony go off without a hitch. Design your wedding program online buy dropping in all your readings, hymns and prayers. We offer these little beauties as 4 pages cards, or 8- or 12-page order of service booklets.
DESIGN & PRINT FOR FUNERALS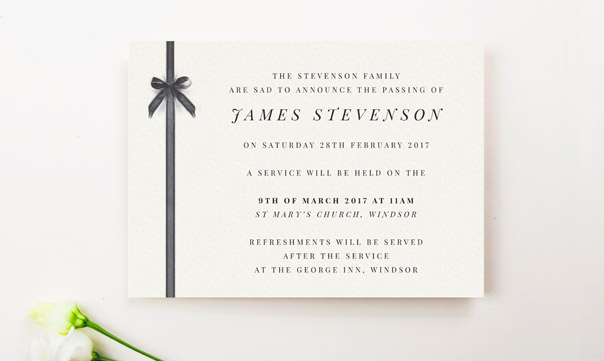 FUNERALS: ANNOUNCEMENTS, ORDER OF SERVICE & THANK YOU CARDS
When it comes to one of life's saddest moments, we are here to help. We've designed our funeral print service to be as quick and as straightforward as possible. We have funeral announcement / funeral invitation cards to notify friends and family of an upcoming service; We have easy-to-design funeral order of service booklets to help with the memorial service; And finally, we have funeral thank you cards so you can send out your appreciation after everything has finished. We have a range of religious and non-religious designs, as well as range of different design styles. And of course, we are here to help should you need a hand.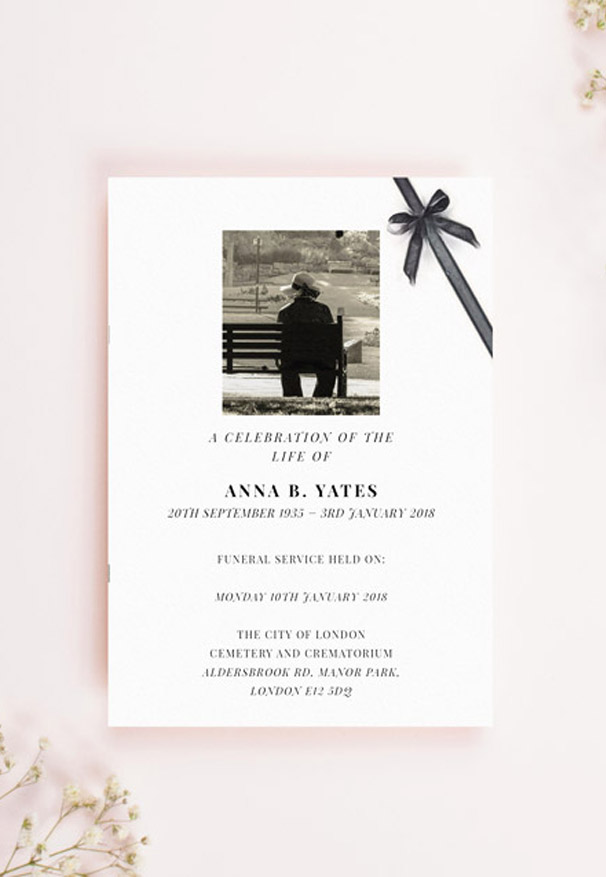 Premium
Paper Stocks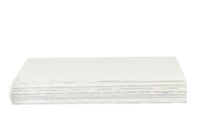 324gsm
A wonderfully traditional card stock produced by GF Smith (Mohawk). It has a light off-white tone which pairs perfectly with its subtle, uncoated texture. Perfect for folded cards & order of service covers.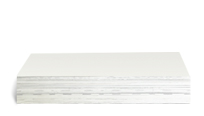 350gsm
Our fantastic house stock. It comes in brilliant white with an uncoated/matt finish. It has a great thickness to it which makes it perfect for place cards and desk stationery. It is also remarkably good value.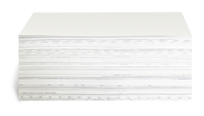 650gsm
This ultra-thick card is in a league of its own. It is a double ply, uncoated card which gives it an extraordinary thickness. When it comes to premium printed wedding invitations, nothing quite beats 650gsm.

change of address cards
the perfect new home card for your new home
You're moving to a new house. Keep your loved ones up to speed with a beautiful change of address card. Available for print on 3 different types of cards, as well as in digital format, our printed change of address cards are perfect for the family on the move.
Affordable Printing
HIGH-QUALITY PRINTING AT UTTERLY AFFORDABLE PRICES
Our core belief here at Utterly Printable is that great designs and beautifully printed stationery shouldn't cost the Earth. For this reason, we've designed our print service to be as affordable as possible. But when it comes to designing or printing our cards, it doesn't mean that we cut corners. What this means is that we strive to be a lightweight company that operates as efficiently, and as cheaply as possible – no flashy offices or unnecessary expenses here! Every penny we save gets passed on to you, our customer. The result? Well, this means we can offer cheap wedding invitations, affordable baby thank you cards, and low-cost save the date cards, but all still printed on superb quality card on excellent printing equipment. Because our core markets are weddings, babies, funerals and moving house (i.e. the more expensive moments in life!), we don't want to add to your printing to add to your financial stress. We want to be your affordable stationery printers…so that's what we're going to do!
THE FINER DETAILS: OUR MOST POPULAR PRODUCTS
wedding invitations
Personalised wedding invitations are a thing of beauty. But what style of wedding invite are you looking for? With almost 250,000 couples getting married in the UK each year, we understand that there's going to be a whole galaxy of wedding styles, tastes and themes out there. For this reason, we have created a collection of personalised wedding invitation designs that is as broad as it awesome. How can you navigate our invitation offering? Well we've divided our designs into several broad wedding style categories. You can access these from the menu at the top of every page. So no matter if you're printing wedding invitations for a chic, modern wedding, or you're getting your guest out to the country side for a classic British marriage ceremony, we have the personalised wedding invitation for you!
baby thank you cards
We started with some great thank you card designs for christenings, but when it comes to babies, we felt like we needed a broader design category. For this reason, we created our collection baby thank you cards. When it comes to the arrival of a new-born baby boy or girl, you fully realise just how generous your friends and family can be. And this generosity comes in all shapes and sizes. For this reason, we bring you our collection of baby photo thank you cards. So no matter whether you need to thank your in-laws for some last minute babysitting, your sister for that hand-me-down stroller, or your friends for the avalanche of onesies and cuddly toys, we can print the baby thank you card to suit. The majority of the designs in this collection are in fact photo baby thank you cards. A beautiful photo of your baby, sat on a lovingly designed thank you card, printed on exquisite card, sold at affordable prices…what's not to love about that?
wedding thank you cards
When it comes to weddings, there is a lot to be thankful for. The flowers at the ceremony, the kind words at the reception, the best man speech not going too far. For this reason, we have put a strong focus on developing the best wedding thank you card collection around. We want to make thanking your nearest-and-dearest as easy and as affordable as possible. Subsequently, we've made our online thank you card designer simple to use, and our card printing service cheap-as-chips. In other words, we're striving to be the best company for wedding thank you cards that we can be.
You will find that many of the cards in our collection are in fact wedding thank you cards with photos. They're perfect for uploading a photo, or photos, of you and your partner from the wedding…once you eventually get them back from the photographer! When personalised and printed, our photo wedding thank you cards act as a fantastic memento of a wonderful day.
GREAT TEXT: INVITATION WORDING
wedding invitation wording
What do you write on your wedding invitation? Which wording works best? These are great questions to ask when setting off down the road of creating your own personalised wedding invitation. There is a universe of different wedding invitation messages you can use on your card, ranging from formal and traditional phrasing, to more modern and informal wording. To make a decision, we think it's best to ask yourself this: what feel is your wedding going to have? If you're planning a classic wedding, then formal invitation wording tends to work best. This includes introductions and direct invitations from the parents. However, if you're planning a more laid back, informal wedding, then your invitation wording can follow suit. Consider even dropping your surnames from the invitation wording for a truly friendly feel.
To take the stress out of writing your wedding invitation's wording, all of our templates have been set-up with the text that best suits the style of the invitation. Likewise, we have used fonts and typefaces on our personalised invitations that suit the design of the card. All in, you can really start to set the tone for your weeding.