What Should I Write on My Christening Invitation Card?
Words by Utterly Printable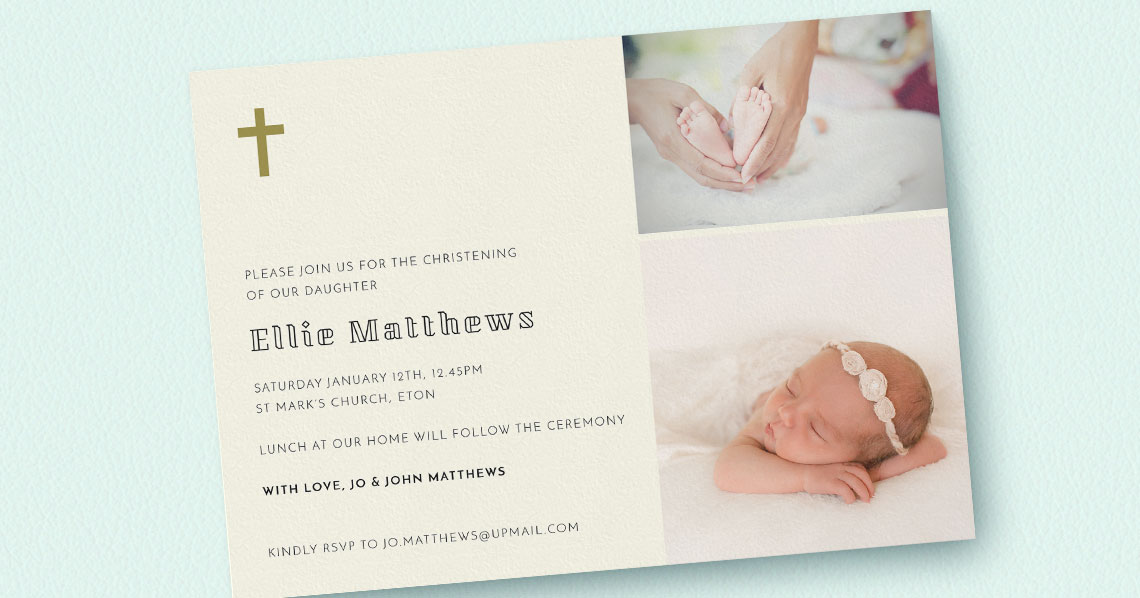 For many parents, having your child christened is a wonderful occasion which will be fondly remembered and looked back on for years to come. It's an opportunity for all your loved ones to welcome your little one into the Christian church as well as marking the start of your baby's relationship with their chosen godparents who will play an integral role throughout their life.
Like many major life events it takes some planning to pull a christening together, which is why we have created a range of beautifully designed and fully customisable christening invitation cards so the last thing you need to worry about is finding the perfect invitation for your baby's big day.
Life with a baby is hectic so planning a christening on top of the million and one other things on your to do list can at times feel insurmountable. That's why we have put together this simple 'how to' guide, so that at the very least designing and writing the perfect invitation card won't take longer than a few minutes.
What to Include in your Christening Invitation?
As with any invitation, the style in which it is written will vary from person to person and should reflect your family's personality. Whether you prefer more traditional and religious wording, or something light-hearted and sweet will depend on you as a family but etiquette states that the following details should be included in some form.
Child's name: You can either include your child's full name or just their first name if you have included your surname elsewhere.
Parents names: make sure to include the parent(s) names somewhere in the invitation to ensure everyone knows whose little 'George' you're referring to.
Date, time and venue of the christening service. On the reverse of the invitation consider including relevant details such as nearest train station or whether parking is readily available to make things as easy as possible for your attendees.
Details of any festivities to follow. If you're hosting drinks or food after the event, then make sure your guests know where this will be held and what you will be providing.
RSVP information if required. Particularly relevant if you're hosting an event after the christening so that you know how many to expect and cater towards. Most include a phone number or email address for guests to respond to.
Optional extras:
Godparent names: some families choose to include the names of their chosen godparents in the invitation, so guests know who they are.
Photograph of your gorgeous baby. Many families use this as an opportunity to include a sweet photograph of their precious little one to make it extra personal, which is why many of our designs offer this option. Choosing your favourite one from the thousands you've taken since birth might actually be the hardest part of the whole christening planning!
For further inspiration we have included a few templates of typical invitation wording, obviously these can be customised to include all the relevant details to your child's christening.
---
You are invited to the Christening of our Daughter,
Isabella
Date: Saturday 19th February, 2020
Time: 11am
Place: St. Peter's Church, Chertsey
KT22 7FG
And afterwards for a little bite to eat at ours.
We hope you can make it!
John and Kristen Smith
---
Join us as we celebrate with great joy the Baptism of
George Thomas Smith
Saturday 15th August 2020
eleven o'clock in the morning
St. Peter's Church, Chertsey
KT22 7FG
And afterwards at
The kings head, Chertsey for refreshments
John and Kristen
---
We're joyfully bringing our son/daughter
into the love and grace of God's family.
We invite you to celebrate the Baptism of
George Thomas
On Saturday 19th July 2020
11am at St. Peter's Church, Chertsey
Lunch and cocktails to follow at our house,
We look forward to seeing you there!
John and Kristen Smith
---
We hope you enjoy our range of births and children stationery products. Our surprisingly cheap christening invitations are available for printing at any time. But if you're looking for something a bit more modern, then head on over to our collection of WhatsApp christening invites. They come with a free digital RSVP service for you to keep track of friends and family who will be meeting you at the church!