How to write a wedding day menu
Words by Utterly Printable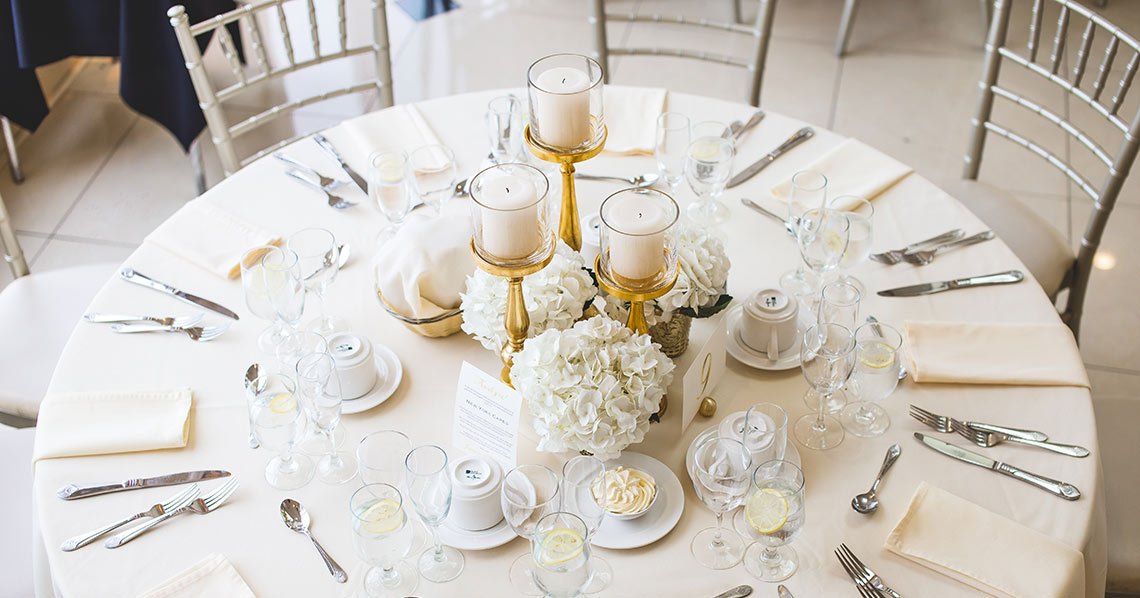 The wedding day meal is often a highlight of the day for your guests whether it's a sit-down, serviced affair or from quirky food trucks. After the marriage ceremony, photographs, and cocktail hour most of your guests will be more then ready to get off their heels and tuck into some yummy grub. From experience we can tell you that the menu is one of the first things your guests will be looking for when they enter your reception venue. Why not design you own wedding menu card to tie in with the rest of your elegant wedding stationery?
Once you've chosen your wedding menu template and determined how you will serve your food, you can start to think about how you would like to present this to your guests. Whilst a wedding menu is not a necessity, most guests appreciate having this information. This is especially true if you're providing a variety of different culinary options. Other pieces of information which you can consider including are common allergens such as nuts and gluten which may be found in each dish, the vegetarian and vegan options, and a small note on what wines will be served alongside your courses.
No matter what type of meal you're hosting whether it's food truck, family style sharing plates, a buffet or a three course sit-down meal, our wedding menu card designs are fully customisable allowing you to structure your menu in exactly the way which best suits your meal. And don't fret, our mouth-watering designs will be sure to get your guests excited for whatever culinary treats you're serving up.
Below we've included some popular writing templates to give you an idea of where to start when structuring your menu. For further inspiration have a look at our extensive collection of
elegant wedding menus
here.
A Traditional Plated Wedding Menu:
Couples name and date
APPETIZER
Sweet potato and chili soup
with coconut cream and roasted coconut
MAIN COURSE
Braised bavette of beef
Roasted garlic mash and bourguignonne sauce
–
Persian spiced rack of lamb
Apricot and couscous with cumin yoghurt
–
Pan fried halloumi
Celeriac puree, roasted button onions and mushrooms
DESSERT
Rich chocolate torte
With honeycomb and Chantilly cream
A selection of cheeses with British chutneys
A Buffet Wedding Table Menu:
Thank you so much for celebrating this special occasion with us!
Please eat, drink, and be merry.
Braised Pork Shoulder
Bacon, Apple, Sausage, Cheddar Stuffing
Brandied Cream Sauce
Hot Smoked Salmon
Dijon Cream Sauce
Whipped Russet Potatoes
Garlic & Chives
Roasted Local Vegetables
Fig Tapenade
Seasonal Green Salad
Balsamic Vinaigrette
Whole Grain Baguette
Honey Butter