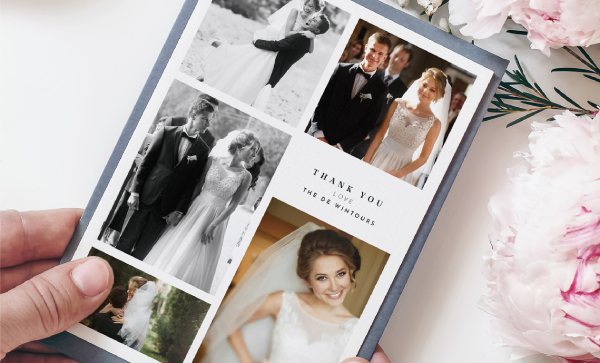 welcome to our information hub for
WEDDING THANK YOU CARDS
We want to be you go-to destination for personalised wedding thank you cards. That's why we've created this comprehensive resource page, packed with beautiful design inspiration, popular blog articles, and all the essential background information on wedding thank you card etiquette, history, and more.
We're here to help you craft the perfect message with our advice on wording and tips for sending out your heartfelt thank you notes. So, whether you're a bride-to-be, a groom, or simply part of the wedding party, dive into our one-stop destination for all things related to custom wedding thank you cards, and let's make your thanks unforgettable!
Jump to...
Click on the links to jump to the corresponding section below:
Get inspired by our best-loved creations!
Get ready to be inspired! We've gathered our most popular wedding thank you cards for you to explore. These stunning wedding thank you card designs have won the hearts of many couples, and we're sure you'll find one that captures the essence of your special day. All you need to do is drop in your own tresured photos from the Big Day. Browse through these crowd-pleasers and see what takes your fancy!
question!
Why send out wedding thank you cards?
Sending wedding thank you cards is a heartfelt tradition, allowing you to express gratitude to those who made your big day special. These cards acknowledge your guests' efforts, from attending the ceremony to bringing thoughtful gifts. They also help strengthen relationships by showing genuine appreciation for their presence at, and support on your wedding day. In other words, wedding thank you card printing is important!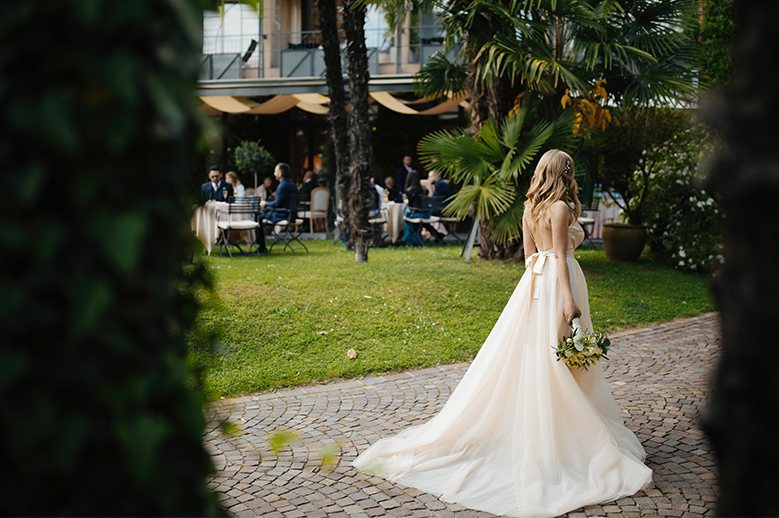 Furthermore, thank you cards serve as cherished keepsakes for guests, allowing them to relive the joyous occasion. How often have you seen one on a mantlepiece, or stuck to a fridge door? They can also showcase your wedding theme and personal style, adding a touch of your unique celebration.
In essence, wedding thank you cards are not just polite gestures (though they are most certainly that!); they create lasting memories and connections with your loved ones, keeping the magic of your big day alive in their hearts.
Curious about the best time to send out your wedding thank you cards? Timing is essential, and we've got you covered! Check out our detailed guide on when to send your wedding thank you cards and ensure your gratitude reaches your guests at the perfect moment.
---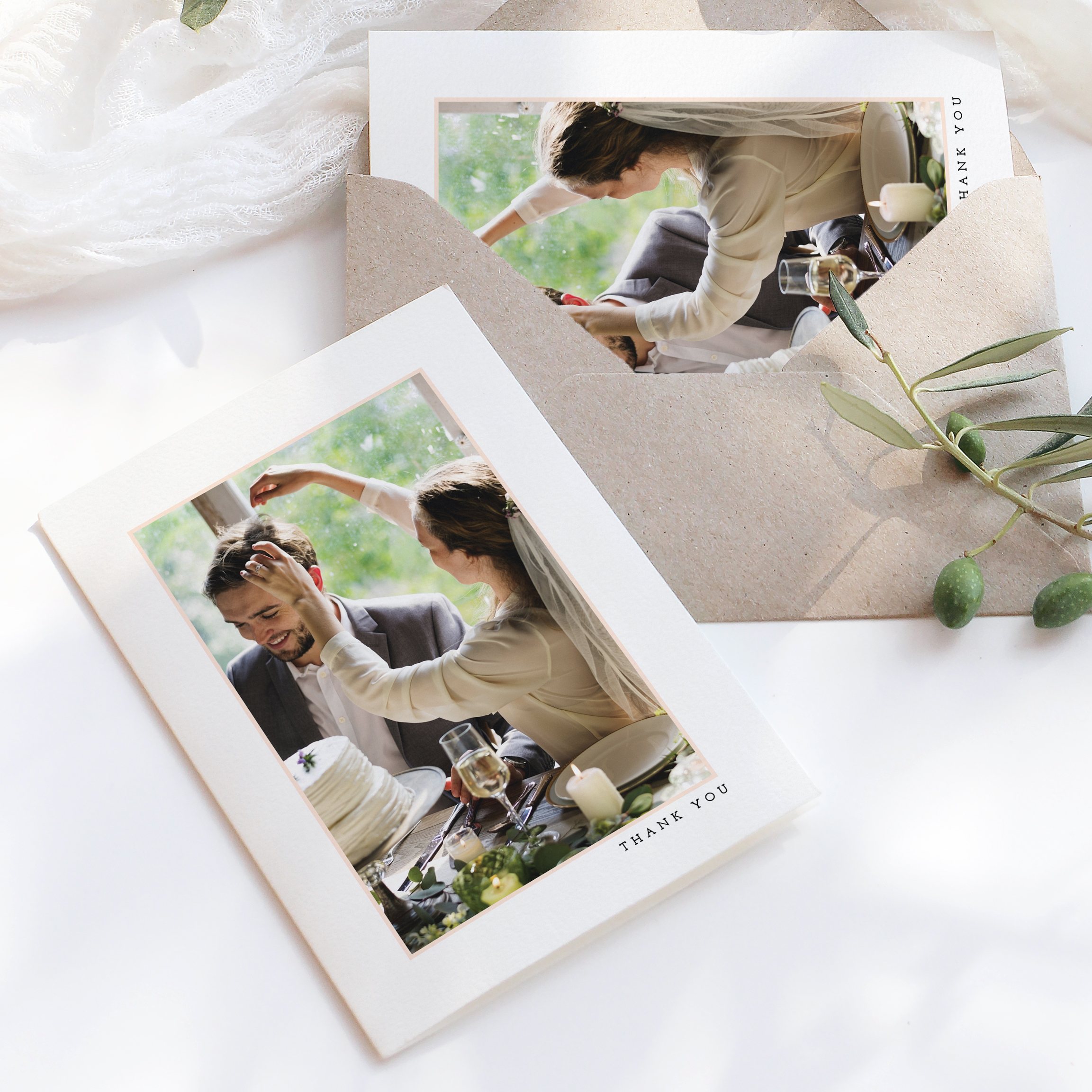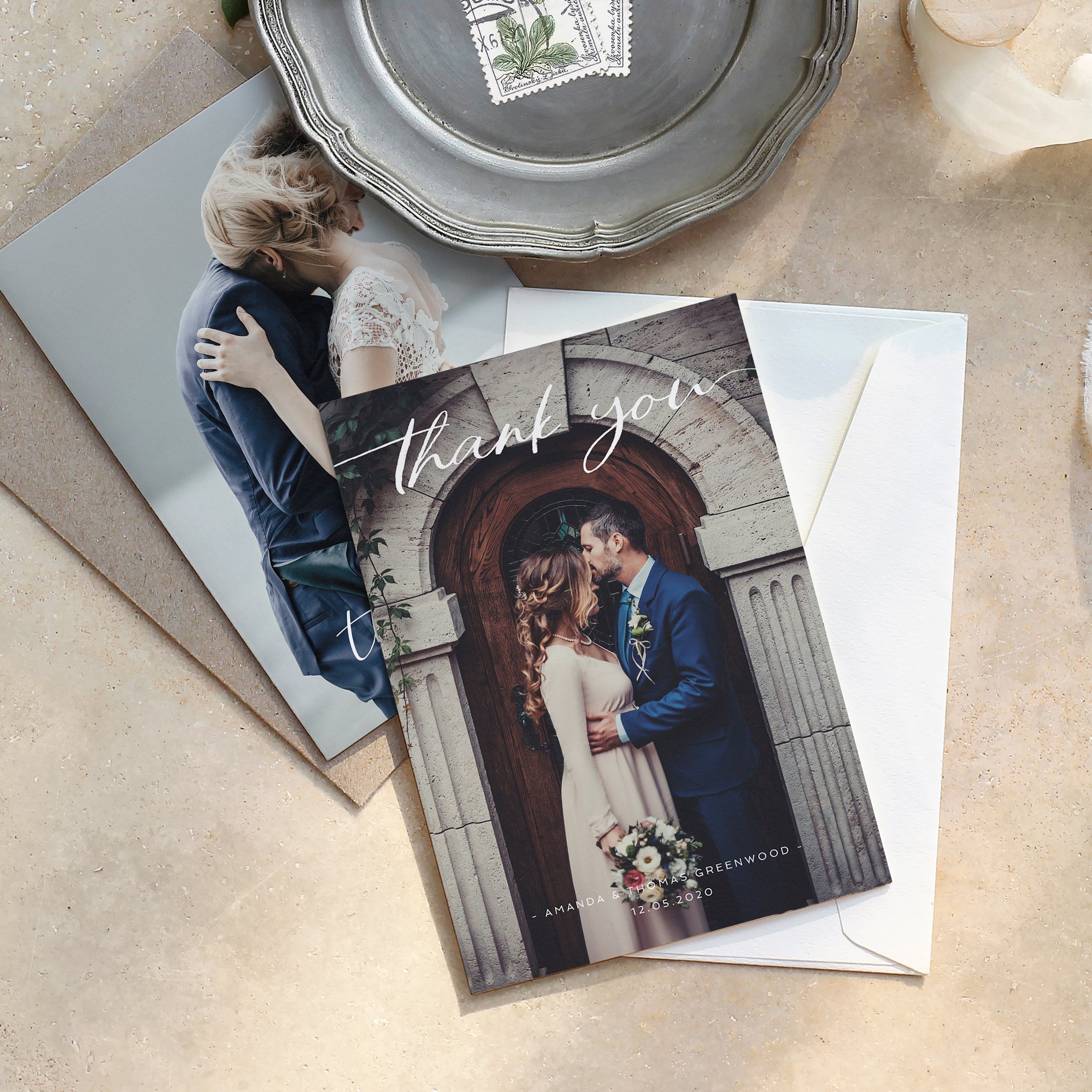 question!
What makes a great wedding thank you card?
Wondering what makes a fantastic wedding thank you card? Crafting the perfect token of appreciation combines heartfelt messages, beautiful design, and personal touches. From choosing a card style that reflects your unique wedding theme to adding your own heartfelt words of gratitude, every element plays a crucial role.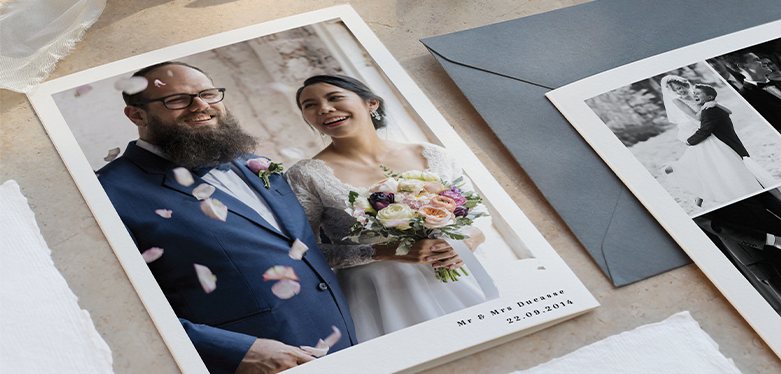 1. Pick a timeless card design:
When it comes to choosing a design for your wedding thank you card, simplicity is key. Opt for a gorgeous photo of you and your partner that captures the essence of your special day. To ensure your photo is replicated perfectly, choose a reliable printer like Utterly Printable. Our industry-leading printers will bring your treasured memories to life on paper. Our full selection of classic wedding thank you card designs can be found here.
2. Print your thank yous on a premium card stock:
A traditional and elegant matte finish is an excellent choice for your thank you cards, as it makes writing easier and exudes sophistication. Our 350gsm House stock provides a thick, high-quality feel, adding an extra touch of luxury. Plus, all our paper stocks are FSC certified, meaning they come from sustainably managed woodland, so you can feel good about your eco-friendly choice.
3. Pick your thank you card working carefully:
The message you include in your wedding thank you card is crucial. It's essential to convey your gratitude genuinely and thoughtfully. If you're looking for guidance on crafting the perfect message, check out our helpful tips in the following article.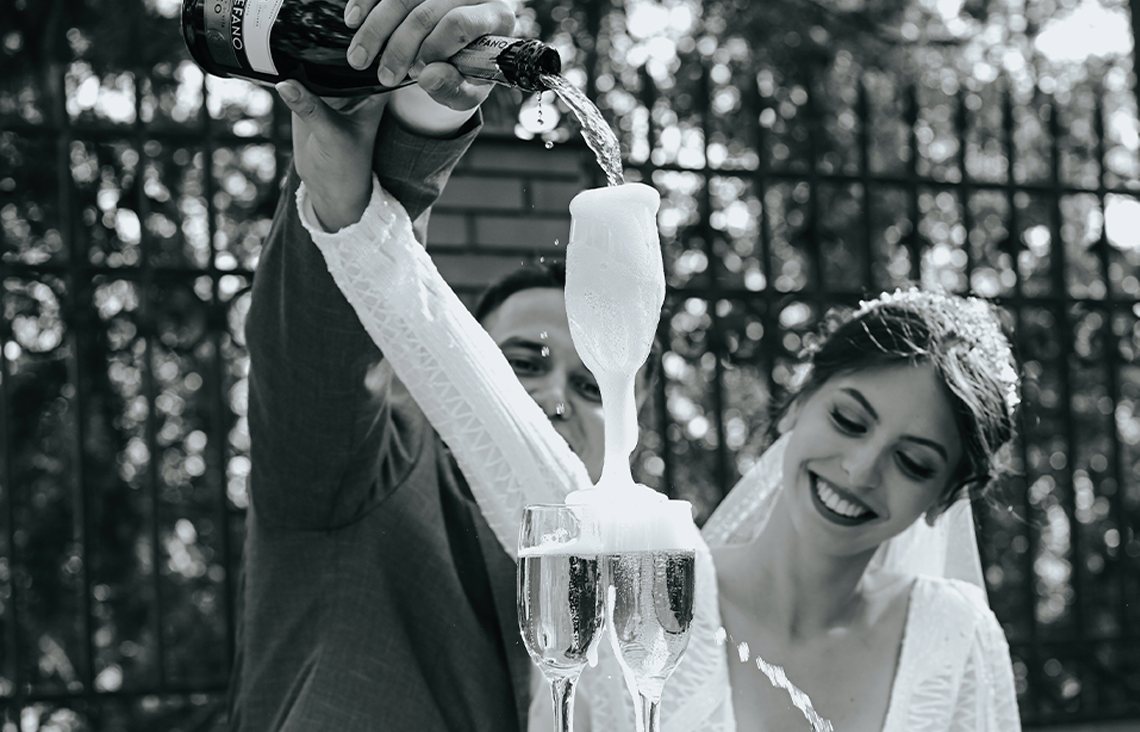 top tips from your printer!
How to pick the perfect photo for your wedding thank you card
Choosing the perfect photo for your wedding thank you card can be a delightful yet challenging task. With so many beautiful memories from your special day, how do you pick just one image to convey your gratitude? Don't worry; we're here to help! Follow these tips to select a photo that captures the essence of your wedding and leaves a lasting impression on your guests.
1. Choose a candid moment:

Pick a photo that showcases a genuine, heartwarming moment from your big day. Candid shots often capture the joy and emotion better than posed ones.

2. Consider the composition:

Look for a well-balanced image with clear focus on you and your partner. Ensure there's enough space around the edges for the card design and any text you wish to include.

3. Reflect your wedding theme:

Select a photo that represents your wedding's style, theme, or colour scheme, creating a cohesive look for your thank you card. Also, give some thought to whether you'd like to use a black and white, or colour photo.

4. High-resolution is key:

To ensure a sharp, vibrant print, choose a high-resolution image taken by a professional photographer.

5. Get a second opinion:

Share a few of your favourite photos with close friends or family members and ask for their input. Sometimes, an outside perspective can help you make the final decision. And don't forget, you can also pick a wedding thank you card design with lots of photos.
By following these tips, you'll be well on your way to picking the perfect photo for your wedding thank you card, creating a beautiful keepsake for your guests to cherish.
Take a look at our full collecton to design your own wedding thank you card online.
---
in our humble opinion...
Wedding thank you cards adorned with a collection of your stunning wedding photos provide a truly unique and thoughtful way to express your gratitude to your guests. These picture-perfect tokens of appreciation allow you to share multiple beautiful moments from your special day, giving your loved ones a glimpse into the joy and love that surrounded you. As your friends and family receive these cards, they'll be reminded of the magical memories they helped create, evoking the warmth and happiness of your wedding celebration.
Top picks:

Multi-photo thank you cards:
---
Moreover, thank you cards featuring a variety of wedding photos offer an opportunity to showcase different aspects of your big day, from the heartfelt ceremony to the lively reception. Your guests will appreciate the care and thought that went into selecting the perfect images, and they'll cherish these cards as a keepsake for years to come. By incorporating an array of photos into your thank you cards, you create a personalised memento that not only conveys your gratitude but also keeps the spirit of your wedding day alive in the hearts of your loved ones.
Take a look at our collection of photo wedding thank you cards >
---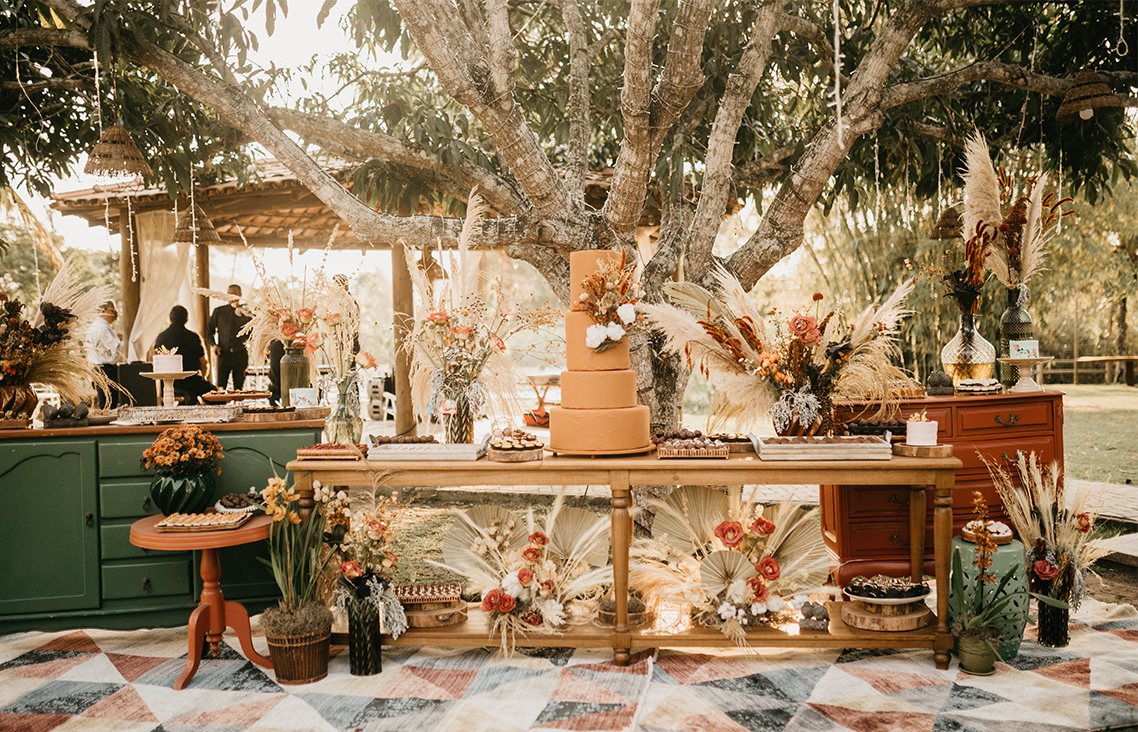 a final thought...
Wedding thank you cards printed on environmentally responsible, FSC certified card are not only beautiful but also kind to our planet. By choosing eco-friendly cardstock for your thank you cards, you're supporting sustainable forestry practices and making a positive impact on the environment. At Utterly Printable, we understand the importance of being environmentally conscious. That's why we're proud to offer our customers the option to offset the carbon footprint of their order at checkout. When you choose to print your thank you cards with us, you're not only expressing your gratitude to your guests but also demonstrating your commitment to a greener future. It's a thoughtful choice that shows you care about the world we live in, making your thank you cards even more meaningful. You can learn more about our envrionmental printing efforts here.
---
further reading...
Our favourite wedding thank you card blog articles:
Looking for some extra inspiration and tips for your wedding thank you cards? Check out our collection of wedding thank you card blog articles, packed with creative ideas, etiquette advice, and the latest trends in wedding thank you card design. From crafting heartfelt messages to choosing the perfect photo, our blog is your go-to resource for making your thank you cards truly unforgettable. Dive in and let the ideas flow!
Here are some of our favourites to get you going:

Back to the top