7 Winter Wedding Invitations We Think You'll Love
Words by Utterly Printable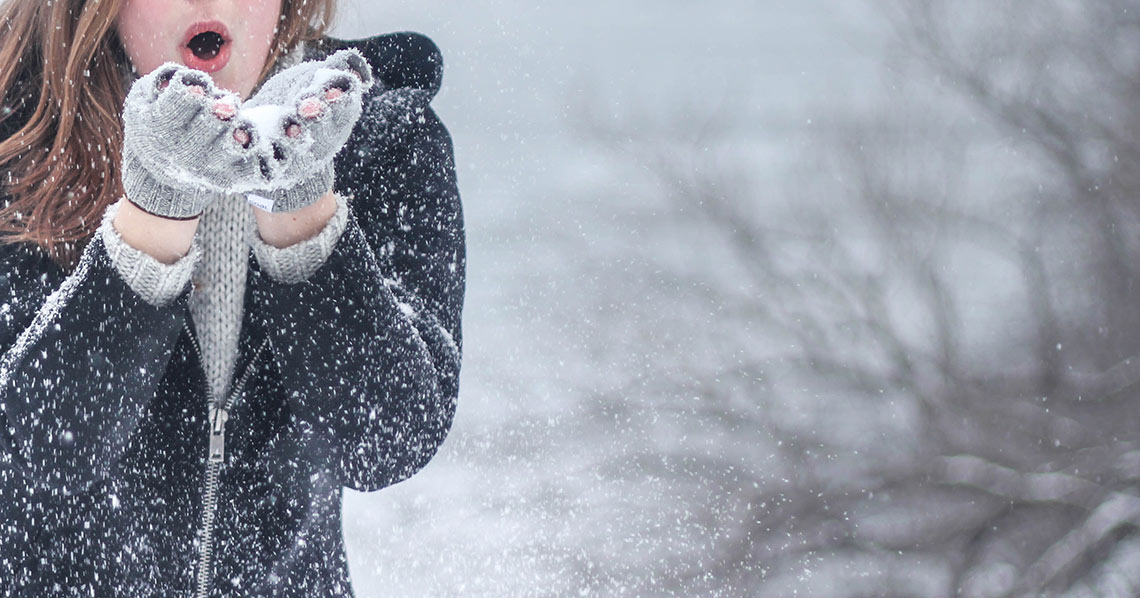 With romantic roaring fires, a sprinkling of snow and glamorous faux furs what's not to love about a winter wedding? On top of that, your guests will be excited to have something to look forward to as the evenings close in and the rush of summer weddings has long passed. With winter weddings still being fairly uncommon, your guests will also have fewer preconceived ideas about what to expect leaving you with plenty of opportunity to surprise and delight them and more than likely convince a few future couples that you can't beat a winter bash. So, whether you're planning the new year's eve celebration of the century, or an elopement on the slopes we've got you covered with winter wedding inspired stationery. Typically, a winter wedding calls for darker more dramatic colours or glamorous gold and silver metallics. Patterns are less seasonally inspired, but you can still find floral wedding invite designs with a winter vibe, along with more modern wedding invitation designs and, of course, the traditional invitation, simple with a bold border and beautiful typography has not only stood the test of time but also the change of season. Have a look below at winter wedding invitations which we love to inspire your search.
Blue and cream
This strong, dark and mysterious invitation is perfect for a winter wedding. The dark hues and off-white tones give this template a cold weather vibe. However, its relatively simple watercolour design ensure it remains elegant and stylish. The blue and cream colour will match most colour palettes, and it will look simply stunning when paired alongside silver or gold. If you're looking for an invitation that tells your guests to get ready for a stylish and luxurious event, then this is the invitation for you.
Ski pass
Getting married on the slopes? Or having a winter wedding inspired by your favourite pastime? Then fear not we have the perfect wedding invitation for you. Featuring retro skies, this is the perfect invitation for couples whose ideal day is spent in the backcountry after a night of heavy snowfall. Whilst overall the invitation remains clean and classic the skies add a gorgeous pop of colour which will catch your guests' eye and excite them with the possibilities it could signify.
Hues of blue
For those floral invitation lovers who are planning a cold weather wedding, this is the invitation for you. Featuring the popular watercolour flower wreath but in darker colours than commonly found on spring and summer invitations, this design incorporates the best of both worlds. If you're planning a colour scheme featuring deep purple or dusty pink (and let's be honest why wouldn't you?) then this is the perfect invitation for you. Your guests will instantly know to expect a winters date but also that the day will be filled with just as much romance, softness and gorgeous floral arrangements as any summer wedding.
Tiny, tiny penguins
What suggests winter better than a waddle of penguins? And yes, for your interest, we call a group of penguins together on land a 'waddle'. These gorgeous animals often found in the coldest of conditions are the perfect inspiration for your winter wedding. They are one of the few animal species which mate for life despite often having to spend long periods of time away from one another, and no matter how big the crowd is when they return home, they have the ability to find each other again within minutes. So, if you're looking for a fun and adorable wedding invitation and, like these little fellas are planning on 'mating for life' then this is the perfect invitation for you.
In the navy
Another classic and elegant wedding invitation design featuring a modern twist on the traditional winter vibe. It is complex yet clean cut with striking white lettering and it will evoke a sense of luxury and tradition in your guests. It doesn't give much away about possible location so fits whether you're planning a posh city hotel bash or a country manor soiree. For those couples who are using a darker wedding colour scheme, this invitation will match perfectly. Consider including silver touches to your day to really make it stand out. We have a full wedding stationery design suite available in this design, including menus and save the dates which will really tie your day together and impress your more eagle-eyed guests with your attention to detail and sense of style.
White ivy
Not strictly a winter-only wedding invitation, but certainly one that can be used in any season. This invitation is for couples who are planning a cold weather do but who are using a lighter colour scheme then typically found in the winter. The gorgeous dusty blue colour and ivory white ivy will capture your guests' eye and look stunning amongst their wedding invitation collection. Feminine but not too girly, it has a romantic design and is perfect if you're looking for something with a softer vibe.
Metallic wreath
This cold weather wedding invitation doesn't contain the usual deep blues and purples which so many invitations do, but it evokes the spirit of winter through its use of gold. It can be paired with virtually any colour and it will give your guests a sense of the luxurious affair you're planning. Glasses of golden champagne will look glorious next to your matching wedding menu cards and set your wedding day apart from the rest.
As a company, we pride ourselves on offering affordable wedding invitation online, but that doesn't mean that we cut corner. All of our wedding invitations are available on a selection of 3 premium card stocks. Furthermore, we put a huge amount of effort into making sure we don't cut any environmental corners. Check out this page for more information on our sustainable printing service.