8 of the Best Floral Wedding Invitations Right Now
Words by Utterly Printable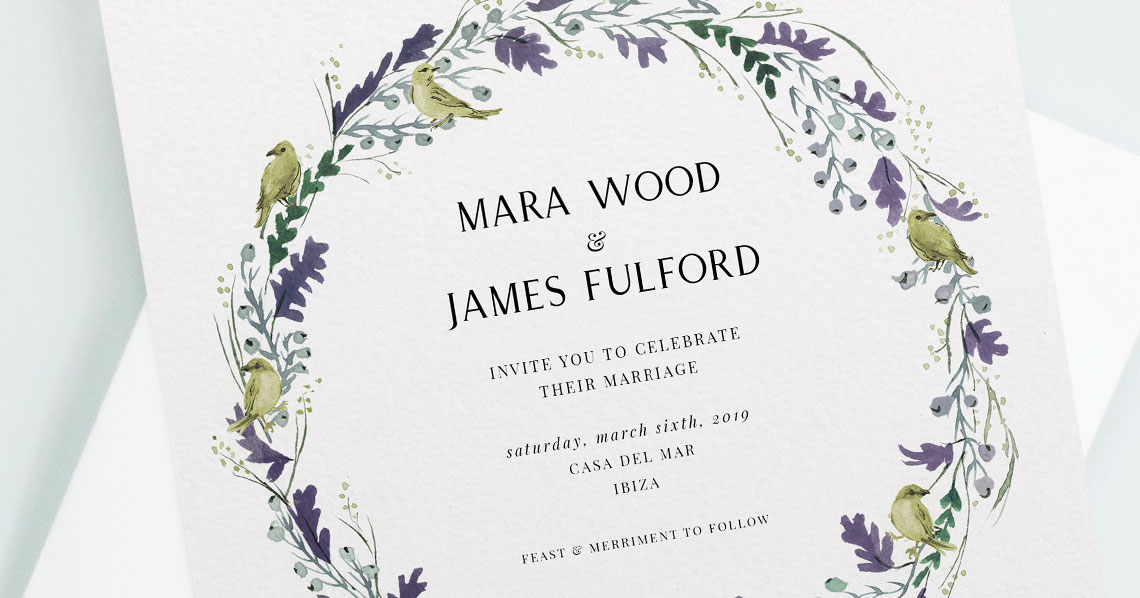 Over the last few years, we have seen a definite increase in the number of floral wedding invitation designs sold on our site, and we think with good reason. A floral design can add colour, personality and romance to your wedding stationery suite and depending on the design it can give your guests a clue as to what your theme might be, whether that's quintessentially British, country-chic, tropical or anything in between.
The wonderful thing about floral patterns is that, because there are so many options, you are bound to find one which ties in with your colour scheme and vibe for the day. If you're hosting an autumn or winter wedding, a floral invitation can still fit really nicely into your day. The darker pattern of flowers and plants found naturally in the season you're getting married will give off a romantic and seasonal impression.
No matter what sort of wedding you're planning, we've put together a collection of our favourite floral designs for wedding cards on our site right now. So have a look through and see what inspires you.
Traditional Garden Garland
This beautiful floral garland is the perfect example of a traditional and graceful floral wedding invitation. The muted painted colours on thick white card produce a more elegant wedding invitation then the traditional plain white. It leaves your guests still expecting a quintessentially British affair. This invitation can be used for weddings in the spring and summer but also the autumn and winter as your will find greenery throughout the seasons. It doesn't give too much away about the rest of your theme and can be used with a wide array of different colour schemes. Consider including simple foliage into your floral arrangements to really tie the day together and impress your more observational guests.
Hues of blue
The deep purple and pink hues of this floral design give it a unique presentation that would be perfect for a cold weather wedding whilst it still maintains its romantic character. This is the perfect invitation for a couple planning to use similar tones in their colour scheme, bridesmaids would look gorgeous in deep purple or pink and it lets your guests know to expect a magical winter wonderland.
Blossom and long leaves
If you're planning a spring wedding, whilst the blossom blooms, then look no further then this stunning light pink and blue design. The unique floral pattern gives it a whimsical yet not overly feminine feel which would be prefect for a boho-chic or countryside wedding. Your guests will be left expecting lots of gorgeous pastel colours and light springtime floral arrangements. This beautiful invitation suite will also look stunning when framed and hung in your house as a special memento of your big day.
Summer wreath portrait
Here is another traditional floral wreath, but this time with the addition of summer blooms. This makes this design the perfect invitation for couples planning a traditional and romantic wedding in the height of summer. It is ideal for those who are planning on including roses in their floral arrangements and are hoping to surround guests with an abundance of summer flora. Whether you're hosting the big day in your back garden or at a gorgeous National Trust site, this invitation will let guests know to expect all things summer, and that includes prosecco and Pimm's!
Dark garden
This darker toned invitation gives off a mysterious secret garden vibe. The dark tones ensure it is appropriate for a winter wedding, but the brighter flowers also mean it could be used in the autumn or spring. This floral design is more modern then a floral wreath or simple floral motif invitation and whilst it lets guests know that you may not be going down the traditional wedding day route, it doesn't give much away about what to actually expect. So, whether you're planning a wedding in a secret garden, a city warehouse or under a canopy of trees in the middle of the woods, this design can be used to ensure your guests expect romance and mystery no matter what the season.
Centrepiece
This is not your traditional floral design, but it is perfect for a warm weather wedding. This white Lily flower drawing is modern and unique and so realistic you can almost smell the sweet Lily scent. The design is both formal and elegant and is perfect for those planning a black-tie affair with a botanical theme. In China, Lilies are often used in weddings as they're associated with 100 hundred years of love and good luck, what could be more apt?
Pastel jungle
Do you love a floral wedding invitation design? And are you planning a tropical or seaside wedding? Then look no further then this gorgeous and modern pastel blue wedding invitation. It is bright and unique and will stand out to your guests leaving them buzzing with excitement and curiosity as to what you have planned for the day. Follow this design through all of your wedding stationery to give your day a bright and tropical vibe with a design that your guests won't be able to forget.
Elemental flowers
This bright and modern wedding invitation design is one of our favourite templates on our site. It is distinctive, colourful, and full of fun and perfect for the couple wishing to infuse their day with strong, compelling colours. You can match your theme to the reds and yellows in the stationery suite or keep the rest of the colours simple and let the order of service, wedding day information sheet and menus do the talking. Whatever you choose your guests are bound to be gushing over this gorgeous and truly unique design that will be different to anything they have seen before.
If none of these floral inspired designs quite match what you're looking for then don't hesitate to have a look through our full wedding invitation collection.