What are Wedding Save the Date Cards?
Words by Utterly Printable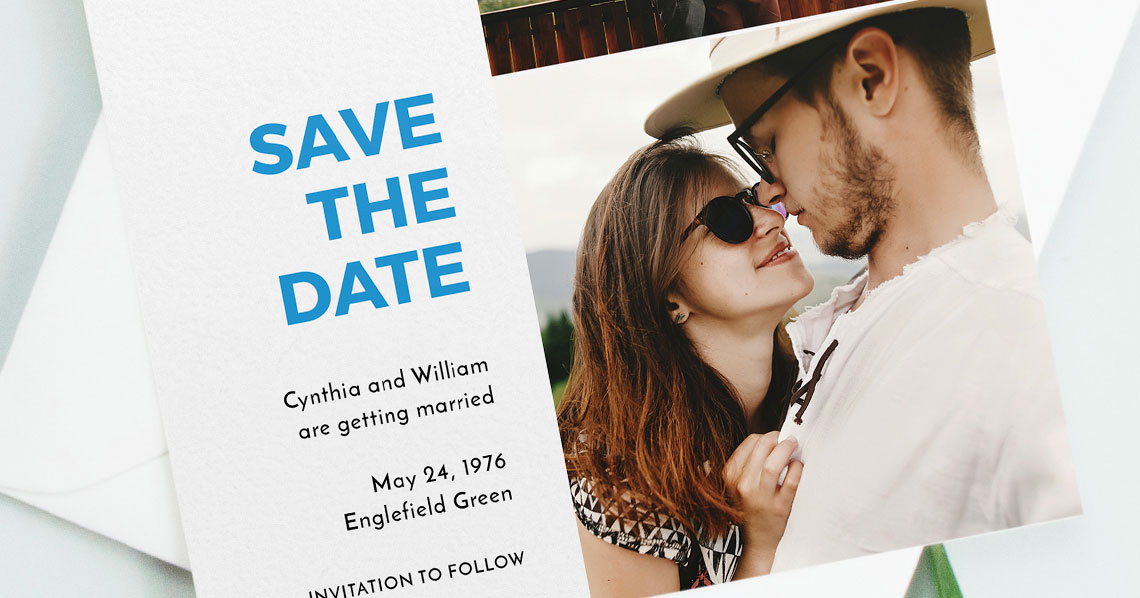 As with all things, wedding traditions change over time, and personalised save the dates have become incredibly popular over the last few years. They are thought to have originate in the United States and are basically used to give your future wedding guests advanced warning of when it is you plan to get married. Simple.
Sent earlier than your personalised wedding invitation cards, the ultimate purpose of your save the date wedding cards are to make sure your guests are available on the date you have chosen to say 'I do'. This is of course really useful, especially if you are getting married around peak holiday time or have something unusual about your wedding which means people may need to take extra time off.
So, Just How Do Save the Dates Work?
It doesn't matter at this stage if you know exactly what your big day is going to look like. The information you are sending out is basically you and your fiancé's name, the wedding date (or dates if you are having a weekend staycation type wedding), the broad location (which can just be a town or city if you haven't confirmed the venue yet) and confirmation that the formal wedding invitation will follow soon.
Who do I send my Save the Dates to?
It is good form to send them to everyone that you want included on the day. Just be sure to remember who you sent them to, you as you can't change your mind and then not follow up with the formal wedding invite. This does include your bridesmaids, groomsmen and your parents even though they may well be involved in all the preparation already. And It doesn't matter if people have verbally confirmed that they are available you still send a card.
When do I send out Save the Dates for my wedding?
Assuming that you are giving yourself time to plan, you want to be sending a save the date card around six months before the date of the ceremony at the very latest. If you are planning to go abroad and have a destination wedding and are expecting people to travel, then you should extend this to 8 months where possible. People need more time to get organised, book flights, take time off work and sort out savings.
RSVP?
It is not necessary to ask guests to RSVP to a save the date card. It is better to wait for the formal invitation to be sent out and ensure that this has the required RSVP information, which may also include your menu planning options.
What About Plus Ones?
Yes, it is helpful to be clear about who you are inviting to the wedding. If you do not want children to attend, this extra notice makes it easier for parents to arrange childcare. If you are unsure as to whether someone has a partner or not you can specify that the invitation allows them to bring a guest, and if it doesn't specify, they should not assume they can bring anyone.
The bottom line is that a save the date card acknowledges that people have busy lives and gives them plenty of time to arrange to be part of your special day. To get started with yours, why not head over to our collection of modern save the date designs? They're big and bold and ready for you to personalise online. Alternatively, we are very proud of our premium but surprisingly cheap photo save the dates. You just need a lovely picture of you and your partner to upload!
For the modern couples out there looking for something a bit different, why not check out our range of WhatsApp save the date cards for weddings? They are affordable, simple to use, and represent an incredibly eco-friendly alternative to classic save the date printing. And as with all of the products in our range of WhatsApp invitation templates, they come with a free online RSVP service. We think it's perfect for sending out further information about your wedding, as well as getting in important attendance information.