What is a Wedding Info Sheet?
Words by Utterly Printable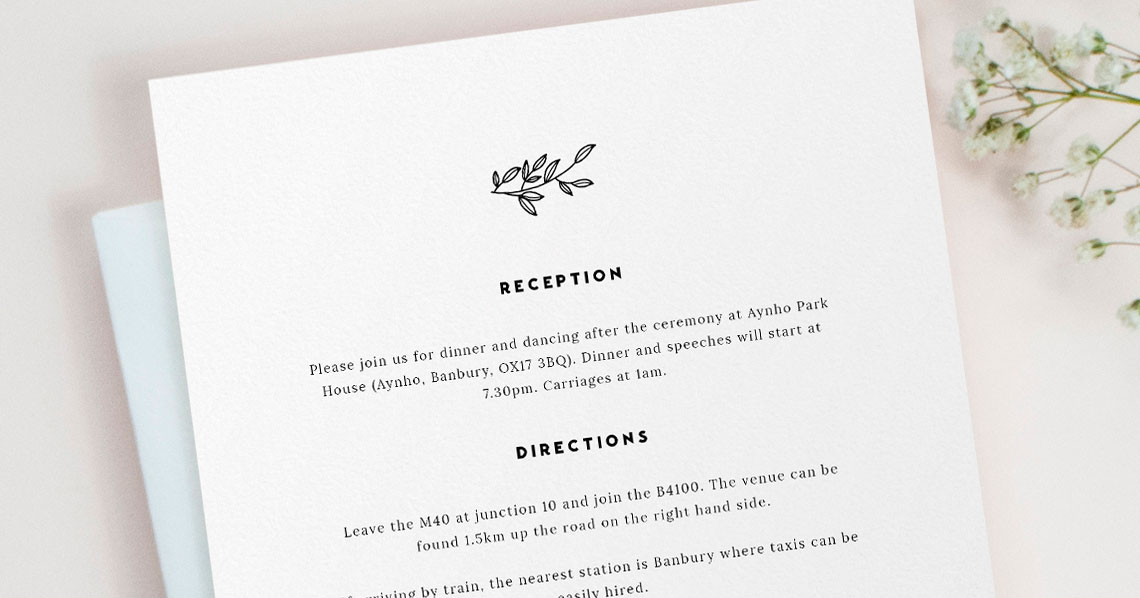 Also known as a wedding insert card, a wedding information sheet contains all the information that you didn't want to clutter the invite with. There are various things you want to convey to your guests, but the classic wedding invitation design itself should be kept to the basic details. You want to avoid things getting confusing and details being missed. Including a wedding information sheet means that guests can take the time to familiarise themselves with everything that is expected and what is happening at their own pace.
More About the Venue
Friends and family that are local may well be fully aware of wedding venues in your area. However, guests coming from further away will not have heard of these places. Some of the most beautiful wedding venues are a little bit out in the country, so it helps if you can include a map and directions. Ensuring that you put the full postal address including postcode make satnav easy. You can also include a phone number that people can ring should they get lost.
More About Transport
Once you've told people how to get to the venue, it also helps to include things like car parking. Does the venue have its own or do they need to park at a nearby carpark? Are you providing any form of minibus or taxi service, or do they need to do that themselves? Including phone numbers for reliable taxi companies in the area is helpful, and other public transport options such as buses and trains, and airports if that is a relevant option.
More About the Dress Code
This might not be relevant to all, but if there is a theme or you are having a specific colour scheme you can explain the detail in the wedding info card. For example, beach weddings have become popular, but it is important guests understand they will be walking in sand, sunglasses are a necessity, and they may need a wrap or shawl for the evening.
More About Timings
Some couples want to include the full schedule so that people know what they're going to be expecting. Maybe some local couples are needing to pop home and check on the children or relieve the babysitter for an hour. So, explaining what time the ceremony is, when the wedding reception starts and when the evening-do is expected to take place is useful…and this all goes on your insert. It also helps if you are changing locations after the ceremony to head to the reception so you may need two maps.
More About the Area
If you know that some of your guests are going to be coming from a far away, it helps to include some information about your local area. Are they able to book a room at the wedding venue or do they need to find a local hotel or guest house? If the latter applies you should make some suggestions of places you know to be pleasant to stay in. Some wedding venues have a very high room cost which may not work for everybody, so including bed and breakfasts and even links to Airbnb in the area can really help.
It goes without saying that you want a wedding invitation with matching insert cards. For that reason, we have created our best wedding invitations as part of a wider wedding stationery suite. We recommend that you find the wedding invite design you intend to print first, and then find the matching info insert card.
As a final word, you might be interested to learn that we now have a digital version of the traditional wedding information sheet. As part of our range of WhatsApp wedding invitations, we have a digital RSVP service which not only allows you to get in attendance details from guests, but also provide information on your event. So that's nice!