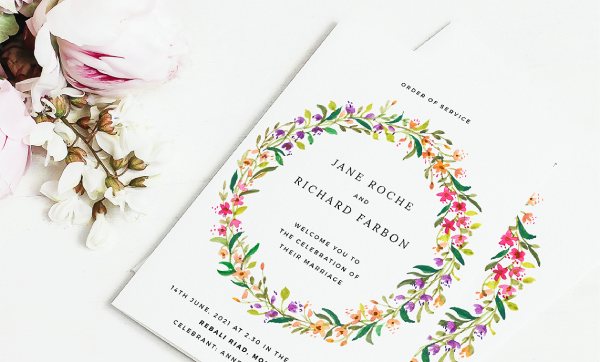 welcome to our information hub for
WEDDING ORDER OF SERVICE
We LOVE personlised wedding order of service, and we've learnt a few things about them over the years. In order to share this information, we've created this order of service information hub featuring stunning design ideas, popular blog posts, and essential insights into wedding order of service production and history.
We're dedicated to helping you craft the ideal programme with our professional advice on wording and formatting. Immerse yourself in our complete guide to all aspects of personalised wedding order of service, and let's collaborate to enhance your big day's unforgettable experience!
Jump to...
Click on the links to jump to the corresponding section below:
the undisputed champions
Our number one go-to wedding order of service designs:
Feast your eyes on a carefully curated collection of our favourite and most popular wedding order of service designs. Each design is available for online customisation, ensuring a seamless experience as you craft your perfect wedding programme. Our range of traditional and classic card stocks offers an elegant touch, while the choice between folded cards or stapled booklets with 8, 12, or 16 pages allows you to find the ideal format for your special day. Discover these enchanting designs and get inspired to create a wedding order of service that truly captures the essence of your marriage celebration.
Most popular:

Wedding order of service
---
Choosing the perfect order of service design for you and your betrothed is crucial, as it establishes the atmosphere for your wedding ceremony and mirrors your individual styles. A thoughtfully selected order of service design not only directs guests through the day's proceedings, but also creates a memorable keepsake that beautifully encapsulates the essence of your love story and your Big Day. Our main page, and full collection of wedding order of service can found here. Peruse at your leisure! We hope you and your partner enjoy the process.
Take a look at our collection of wedding order of service here >
---
question!
How do I incorporate personal touches into my wedding order of service?
Your wedding order of service is an essential bit on on-the-day stationery that sets the tone for your wedding ceremony. It's a program that outlines the sequence of the service, the names of the people involved, and any other pertinent information about the ceremony, such as hymns and readings. Here are some tips to help you design and print your perfect wedding order of service online.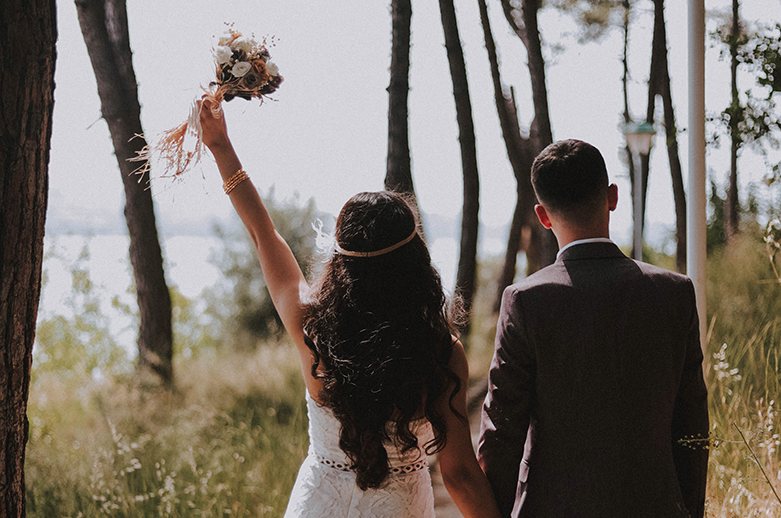 1. Start with a template:

We offer a wide range of wedding order of service templates that you can customise online to suit your needs. Start by choosing a design that matches your wedding theme, and then make it your own by adding your personal touches.

2. Incorporate your wedding colours:

Use your wedding colours in your wedding order of service design. Whether you use the tone of a floral motif, or as a bold coloured border, this will help to tie everything together and create a cohesive look.

3. Add personal details:

Consider adding personal details to your wedding order of service. For example, you could include a thank you message to your guests or a special note to your partner.

4. Choose the right font:

The font you choose can have a significant impact on the overall look of your wedding order of service. Make sure to choose a font that's easy to read and matches the tone of your wedding. We have dozens to pick from in our online design tool.

5. Use high-quality images:

It is becoming increasingly popular to include photos in a wedding order of service. Whether as a focal point of the front cover, or dotted through the other pages, photos can be a great way to add a personal touch to your order of service.

6. Consider printing options:

Once you've designed your wedding order of service online, consider your printing options. We – as a professional printer of wedding order of service - offer a range of paper types and finishes, including multi-page, staples options with thick, elegant covers. Choose a paper type that suits your needs and a finish that complements your design.
Wedding order of service printing can be a fun and straightforward process. By following these tips, you'll be able to personalise your wedding order of service and get the perfect print for your marriage ceremony.
---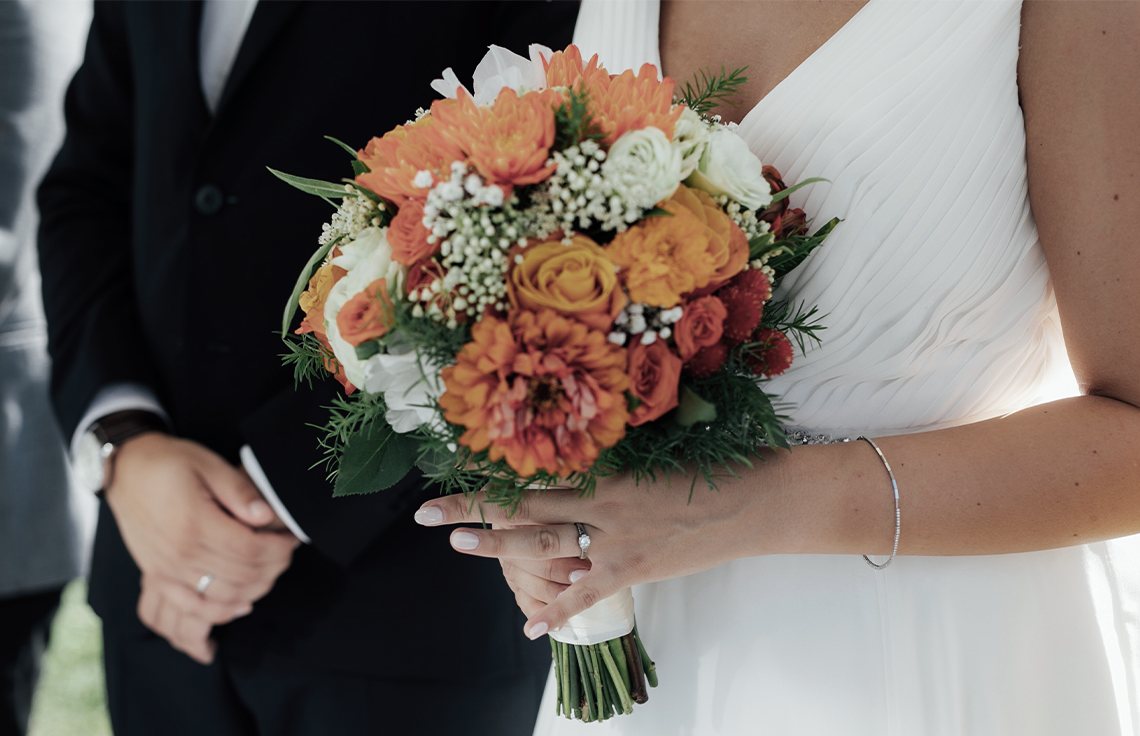 the more you know!
A Brief History of Wedding Order of Service Programmes/Booklets
Wedding order of service programmes/booklets have become a staple of modern-day weddings. They provide guests with an outline of the ceremony, details of the wedding party, and a keepsake to take home. However, these programmes have not always been a part of weddings. In this section, we'll take a brief look at the history and evolution of wedding order of service booklets.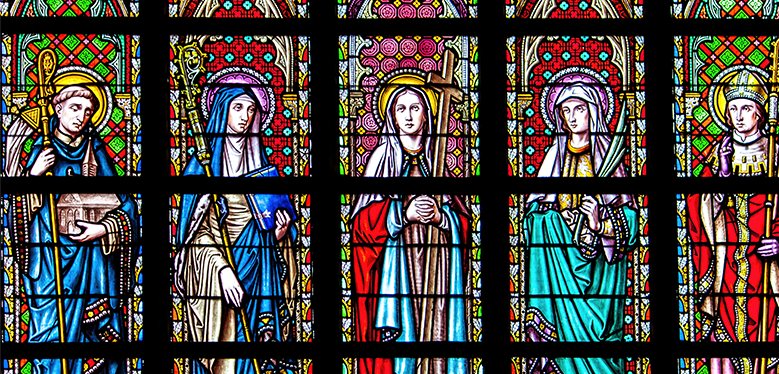 The Victorian Era:

In the United Kingdom, wedding order of service programmes can be traced back to the Victorian era when wedding ceremonies became more formalized. During this time, the order of service was printed on a small card – often produced by the vicar or priest - and given to guests as they entered the ceremony. For an average weeding service, they would not have been personalised, and would have been re-used time and time again.

Mid-20th Century:

In the mid-20th century, wedding ceremonies became more complex and personal. As a result, the order of service became more detailed. It became common for the programmes to no longer be just a small card, but a booklet instead that contained the order of service, hymns, and readings. These booklets were often printed in black and white and stapled together.

Late 20th Century:

With the advancement of technology, wedding order of service programmes/booklets became more elaborate. They were often printed in colour, and the design became an essential part of the wedding theme. Some couples even opted for personalized covers that featured their names and wedding date.

Modern-Day:

Today, wedding order of service booklets are still an essential part of most weddings. And with the rise of digital printing technology, it is easy and affordable for couples to now produce a fully bespoke order of service design. For example, here at Utterly Printable, we have hundreds of wedding programme designs that couples can design online in minutes. They can add photos, icons, colour schemes and much more.




Wedding order of service programmes have evolved significantly over the years. From small cards to elaborate booklets, they have become an essential part of modern-day weddings. The design and layout of these programmes have become more intricate, allowing couples to personalize them to suit their wedding theme. And despite the rise of digital technology, we think wedding order of service programmes will likely remain a staple of weddings for years to come!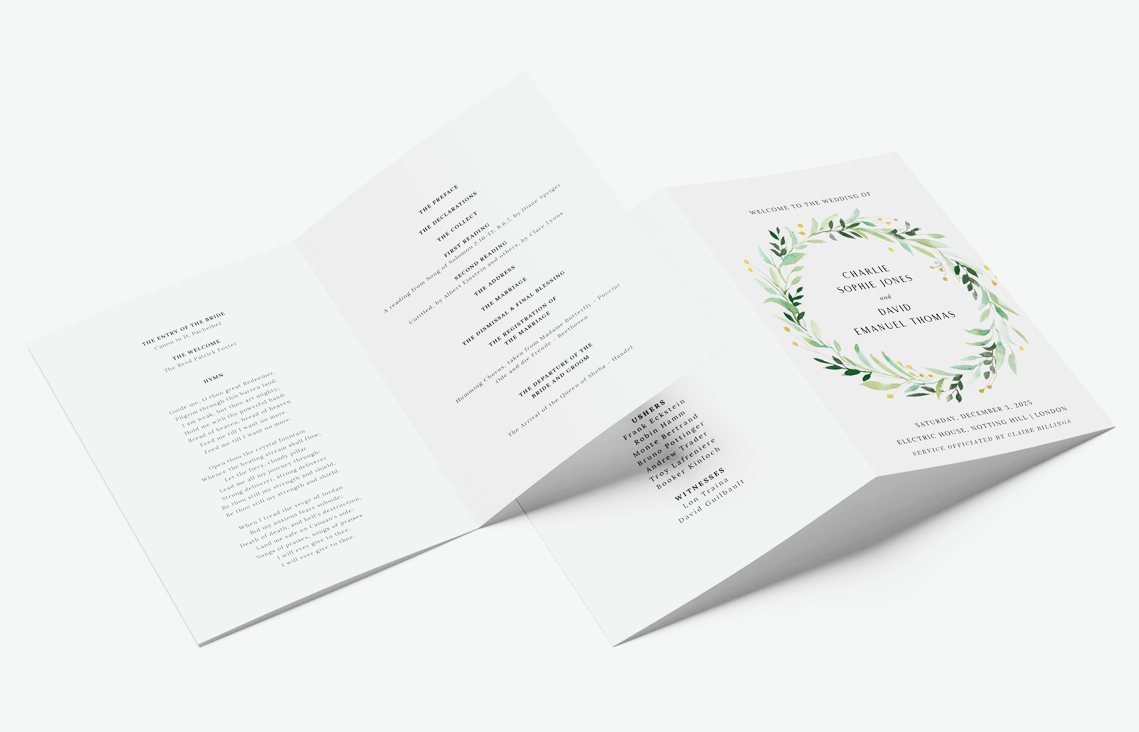 decisions, decisions...
How many pages can my order of service have?
At Utterly Printable, we understand the importance of creating the perfect order of service for your special day. That's why we offer an easy-to-use online platform for designing and printing multi-page wedding programmes tailored to your unique preferences.
Essentially, we aim to be as flexible as possible. Choose from 4-, 8-, 12-, or 16-page order of service options, featuring high-quality cardstock and thicker covers for the larger layouts, along with premium, thick paper for the inner pages. Our user-friendly system allows you to add or remove pages as needed, making it simple to include cherished photos, long ceremony readings, and other personal touches. Enjoy the convenience of designing your wedding order of service from the comfort of your own home and printing it directly through our website.
Let Utterly Printable help you create beautiful, customised wedding stationery that truly reflects your special day!
---
from our blog...
In pursuit of remarkable insights and recommendations for your wedding order of service? Explore our handpicked assortment of blog articles, overflowing with inventive concepts, professional tips, and up-to-date trends in wedding order of service creation. From choosing the perfect layout to weaving in significant touches, our blog serves as your comprehensive guide for designing a unique and unforgettable order of service. Dive in and unleash your creative spirit!
Here are some of our top picks to inspire you:

Back to the top